Features - Exclusive Interview
JULY 18, 2001
Ralf Schumacher: Why winning is good for Ralf
BY DAVID TREMAYNE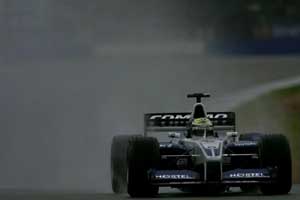 © The Cahier Archive
Two victories in a resurgent year for BMW Williams have allowed Ralf Schumacher to realize one burning ambition - his maiden Grand Prix success - and to push himself alongside elder brother Michael in the spotlight. It's also brought in a much-needed new contender to break up the Ferrari-McLaren monopoly at the top of the F1 tree.
The fastest racing brothers since Sixties stars Ricardo and Pedro Rodriguez produced an historic front row in Brazil, and made some more history in Canada by scoring the first-ever fraternal 1-2.
On the Circuit Gilles Villeneuve on the Ile Notre Dame Ralf beat Michael fair and square, via a combination of the BMW Williams's power and grip advantages, its fuel economy and larger fuel tankage. He pushed Michael hard in the first half, but knew there was no need to take risks because he could run further before his pit stop. We'll never know just how ruthlessly the world champion might have been prepared to defend his lead against his own sibling - remember their clashes at the Nurburgring in 1997 and Barcelona last year? - but in the end it was academic.
The success packed the stands at the GP of Europe at the Nurburgring with their uber-enthusiastic countrymen. Michael, of course, is used to all that. Every head seemed to be wearing one of Michael's red caps. But for Ralf, who has long been inured to living in the shadow of his illustrious brother, the level of adulation is a novel experience that he is enjoying, albeit in his more understated manner. He is looking increasingly convincing since his maiden victory at Imola in April (even if he did fall off the road in Spain next time out and again in practice at Monaco), and Canada did his confidence no harm at all. Like many drivers before him, he is growing stronger through victory.
The Nurburgring also brought confirmation that his contract with BMW Williams has been extended to the end of 2004, giving him the stability of a three years with a team that is clearly on a massive upswing. Ralf is relaxed, amiable and candid, a sure sign that he thinks he is doing the best job that he can right now.
It took Schumacher Jr. 70 races before he won his first Grand Prix, a statistic getting closer to Nigel Mansell and Mika Hakkinen than to the likes of Ayrton Senna, Alain Prost, or even his brother. But in the San Marino GP he finally achieved the breakthrough. But ask him whether the success has changed things for him, or boosted his self-confidence, and once again he falls back on humor.
"Is it possible that my self-confidence could have grown!" he smirks. But for some drivers, that first success has proved a launching pad.
"Personally, I believed always that I would be able to win a GP," he says, "but obviously it was a long time before I was in a position to do that, this year." His last big chance was at the Nurburgring in 1999, when the GP of Europe fell to Johnny Herbert after Ralf's Williams Supertec sustained a puncture. He pauses, perhaps considering this, then expands on the idea. "There are a few more GPs on the calendar which we may be able to win."
The French GP was almost one of them, and even though a slow pit stop forced him back to an eventual fourth place, the meeting marked his first-ever F1 pole position. And he was leading until he struck trouble in the pits with is right rear wheel.
"To be serious, winning does give you a bit more confidence, but then when I passed the finishing line in Imola I knew already that the expectations would be so high for the next race." In other words, that success was a double-edged sword. "It was nice to win, but I knew realistically that people would expect a lot of us that I was sure that I couldn't deliver for the following races. So that's always going to create a bit of negative side."
He and Patrick Head have a strong mutual respect, and Williams' technical director believes his driver has "cleared his head after last year, the way Damon (Hill) did for the final race of 1995."
Overall, the BMW Williams combination has been strong. If there is anything that the package really lacks, it is consistency from the Michelin tires. So how frustrating has that been, given the way that things went last year when he was running the predecessor of the current car on Bridgestone tires?
"It's not really frustrating, because it depends on your expectations," Schumacher replies. "We have been a lot better than we all expected to be this season, to be honest. The only problem that we have is that we haven't delivered as much as it turns out that we could have done, through reliability problems or through being kicked out by other people."
He is referring, of course, to the attacks he was subjected to in the first three races, once by Jacques Villeneuve, twice by Rubens Barrichello.
"That's a bit frustrating," he continues. "But I always knew that it was going to be difficult with Michelin, especially on circuits where it just had an estimation of how things were going to be. But to be fair to it, with its dry tire it has done a pretty good job. It's just that at the moment it has struggled to produce a good wet or intermediate tire. In Malaysia and Brazil, for sure we needed them.
"But we have to be patient while Michelin is developing its tires. In Austria we saw a slight characteristic where the tires were good, then they went off quite quickly, and then they would come back again. We were better able to get round that characteristic in Monaco, where the tires were slightly better suited to the surface, and they just went off for a couple of laps. So we are masking progress."
Then, of course, there have been a few more problems with Michael, notably that near brush at the start in Germany. Ralf won't talk about it publicly, and Michael curtly defends his actions. Some believe the difference between them is that Ralf still regards Michael as his brother out on the track, whereas to Michael Ralf is just another competitor.
"Whatever," Michael says perhaps optimistically, "racing will never affect our relationship."
Schumacher is concerned not to raise expectations any higher for 2001, and admits that he is looking at the current season as a building year for 2002 challenge.
"It is exactly that. I think if we get everything together, take the best out of this year, develop things the best way that we can, then we might have a realistic chance to be permanently at the front next year. We might even have a chance to challenge for the championship with the two top teams."
But given the pace of the FW23, why not this year?
"At the moment we are far away from that. The BMW Williams is quite a new package. Aerodynamically we are not strong enough, and then in Spain and Austria we also had a brake failure. These are the things we have to get on top of first before we can really start to go for the championship."
Within Williams, and especially within BMW, Ralf is very highly regarded, and clearly he is enjoying his long-awaited role as a leading player at the sport's highest level. But he doesn't portray himself as a kingpin of Williams' resurgence.
"The only thing you can do as a driver, apart from to drive fast, is describe your problems as best as possible to the engineers so that they can understand what you mean and what you want, and then you can only hope that the design department will find a solution. And I must say that our design department has done a good job this year. But we all know that we need to be better still if we want to go for the championship."