Features - Exclusive Interview
FEBRUARY 14, 2001
Olivier Panis: Refresher Course
BY DAVID TREMAYNE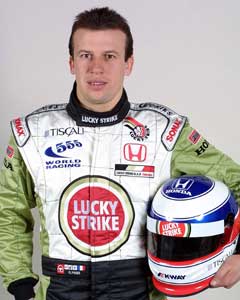 In 2000 Olivier Panis voluntarily turned down a Williams-BMW race drive for a chance to rebuild his psyche and his reputation as a test driver for McLaren. Now, that gamble having paid off handsomely, the winner of the 1996 Monaco GP has his sights set on further race successes as Jacques Villeneuve's partner at BAR-Honda.
Considering that he deliberately took one step backwards at the end of 1999, in the hope of moving two forwards for 2001, Olivier Panis is entitled to look like a cat with a whole bowl of cream of his very own. It comes courtesy of Craig Pollock and British American Racing, who threw him the lifeline he was looking for in the shape of a race drive for the new season alongside former World Champion Jacques Villeneuve.
The quiet Frenchman has always been a hard man for F1 to understand. At Monaco in May 1996 onlookers dismissed as a fluke his very quick times in the race morning warm-up. But a few hours later they ate their scepticism as he steered his Ligier to a remarkable victory round the streets of Rainer's Principality. Michael Schumacher had made an elementary mistake early on, Damon Hill's Williams had broken, and Panis had been the star after passing car after car. It was his day of days as he started only 14th but finished a disbelieving first in one of the greatest upsets in recent F1 history. The drying track and Ligier's pit work and strategy in switching to slicks at just the right time undoubtedly played a key role, but Panis did everything expected of him in the cockpit that afternoon, and threw even more in for good measure. "I have nothing to regret about having won this way," he said afterwards, "because I pushed hard all the way to bring home a Ligier victory."
A year later he was F1's new comingman, the Ligier now called a Prost, its new Bridgestone tires giving it an early season advantage that made it a potential winner in Argentina before transmission failure. Ironically, given the current situation, the winner that day was Villeneuve, whom he was poised to overtake...
That year Monaco brought him fourth place, then in Spain he was fewer than six seconds behind winner Villeneuve at the finish. But then the dream went terribly wrong in Canada, where he crashed heavily and broke both legs. During the inevitable period of recuperation the next comingman arrived and kept his seat warm, the Italian karting sensation Jarno Trulli, who led in Austria. Panis returned to active duty in Germany and satisfied himself by finishing a brave sixth, but people no longer looked at him the same way. He was damaged goods.
"You know," he says, looking back, "1997 was for me a fantastic season to begin with, fighting with the top cars and drivers. But after the accident in some ways it was difficult to come back. I was racing within three months, but the car had not been developed and some of the performance had gone. Mentally it's very difficult when a good car has become two, three seconds off the pace. I really had to work hard to motivate myself again. Psychologically, the situation was not easy."
Nor did it get any easier in 1998 or 1999, when Trulli was his team-mate full-time and the Prost team nosedived towards oblivion. 1997 could never have been further away. Gradually, the sheer impossibility of it all ground Panis down. From glimpsing the summit of the mountain, he had slipped back below base camp. The Prost deal was clearly doomed, and just to make matters worse his long-time friend and manager, Peter Zawrild, died, sadly enough during the Monaco GP meeting.
"Because I was a French driver in the French team, I understood everything, all the problems," he says of that period towards the end of 1999. "So maybe I got more involved; it was hard not to. But as a driver it is better not to get into politics, but just to drive."
By the end of the season he had reached crisis point in his career. But there were signs of hope on the horizon. The most important was that Keke Rosberg and Didier Coton had taken on his management requirements. And now, all those years after that Monaco win, Sir Frank Williams was knocking on his door. Did he want to replace Alex Zanardi alongside Ralf Schumacher?
Four years earlier it would have been the dream chance, but now Williams was coming off a bad season. And there was another prospect: Ron Dennis was looking for a test driver for McLaren, to back World Champion Mika Hakkinen and David Coulthard. It might have been Rosberg's influence at work, but either way both deals were the fillips that Panis needed.
Throughout 2000 he set about rebuilding his psyche and his reputation. And he did it with the same style he had used to pick his way flawlessly round Monaco back in 1996. He wasn't racing, though, and that was hard, but if it was a means to an end he could live with that. Dennis went out of his way to make him feel a part of one of the best outfits in racing, making sure that he did not feel like the third man in a two-man race team. Hakkinen and Coulthard respected his speed. His self-confidence flooded back, boosted further by the sheer pleasure of reward of driving one of the best cars in the game.
"It was a difficult decision to turn down the chance to race with Williams," he admits, "but McLaren had a great program for the future and it was just so good to drive the best car for the best team. I learned so much. I'm in F1 to win races and the championship, but at that time it was right to try a different way."
He could not have had a better platform from which to parade his talent, and he made full use of it, often outshining Hakkinen and Coulthard during tests. "My feeling was always that it was very important to do my best for McLaren and Mercedes. Then we would see what happened," he said. "I was really determined to help McLaren to keep winning, but I always had an eye to the future, and to race again in 2001."
McLaren is often perceived as a cold team from the outside, but Panis found that to be an illusion. "From the outside it is difficult to judge, but when I went there I received such a warm welcome. The ambience is fantastic. It is very professional, and when the driver does a good job the team really pulls together for him. I was very quick in the car, and that inspires confidence. I tell you, I know it's not easy to win races and championships. It never is. But that car and team changed my life! Now I could just get in and drive and do my job; I didn't have to worry about all the other problems and politics."
Long before 2000 was over, Craig Pollock took notice of everything that he saw from the tests, and signed Olivier for 2001 to replace Ricardo Zonta. The great gamble had paid off.
"Being an F1 driver today the racing is very physical, and you also need to be able to gain the experience to develop the car," Panis says as he prepares for the new season with a flurry of fast testing times in the BAR 02. "And then you have all the promotional work to do as well. It can be very tough to organize and manage all of this. But as an established racer who took a step down from the racing arena in the hope of moving two forwards in the long-term, I know what to expect.
"I am a real driver again, and I am very pleased. The year 2000 was quite good for me, and it enabled me to re-establish myself, but it was so frustrating always watching the races on television!"
He remains confident that BAR will take a big step forward, too. "Last year I drove for the best team, but so far I have been very pleased with what I have seen at BAR. The car was quite good last year, and the team is very motivated now. The new car has a completely different philosophy on the aerodynamics, of course, and I speak a lot with Jacques and Malcolm Oastler (BAR's chief designer). I feel very positive."
Panis says he has a lot of respect for Villeneuve, and the fact that he won the championship in 1997. "He is very quick and I know I will need to push him and that he will push me! But that will help to improve the team, too."
Villeneuve, for his part, rates Panis highly too. "It's great that he is going to push me, because he has a lot of experience and is a strong racer. You don't win in Monte Carlo unless your are strong and avoid making mistakes. Everybody at BAR needs to step up, and Olivier's year with McLaren is going to help us all. The team needed a driver with a lot of experience, and that is going to help us all to push forwards."
Many observers expect a lot from BAR-Honda in 2001, but don't assume that it will be just Jacques Villeneuve who produces the goods for the Brackley-based team... Pollock, for one, believes that he has the strongest driver pairing in F1.