Features - Exclusive Interview
FEBRUARY 28, 2001
Nick Heidfeld: Will Nick be quick?
BY DAVID TREMAYNE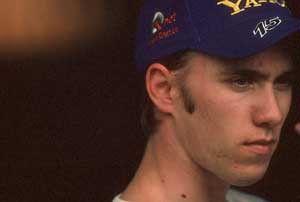 © The Cahier Archive
F1 is notoriously impatient. If a driver doesn't make it in his first year, it can be the end of the road. But Nick Heidfeld smiled broadly as he faced the media during the launch of the new Red Bull Sauber Petronas C20. It was a sign that he is safe from such problems for at least another season, probably more.
The confidence of knowing where he is headed is written across Heidfeld's schoolboyish face. At various stages last year the media wrote him off and did not expect to see him in a car this season, but already he has proved them wrong. He quickly points out that other drivers have had bad first seasons, and still gone on to win a world title. The names Alain Prost and Nigel Mansell spring to mind.
His relationship with veteran partner Jean Alesi was strained a little at times - they both went for the same piece of road at the same time in Austria - but using him as a yardstick proved a valuable means of maintaining motivation as the Prost team struggled with all its problems and the deteriorating relationship with Peugeot. He came out of the comparison reasonably well, too the qualifying score being 10 races to Alesi, a notoriously good qualifier, seven to the young German.
That's nothing to be ashamed off, and compares well with fellow rookie Jenson Button's performance against Ralf Schumacher. But where Button got all the publicity, he had a relatively obscure year with Prost. In some ways that allowed him to settle in at his own pace, but it's clear that he would not have been unhappy if the car had allowed him to bask in the spotlight. And of course he'd have liked to be quicker than Alesi all the time, but in the end he was relatively content with his inter-team performance. The Frenchman was the only means he had of knowing how well he was actually doing as Prost scrapped down the back of the field with Minardi. As far as the results were concerned it was a terrible year, but by comparing himself with Jean things didn't look so bad.
"Well, it wasn't a very good year, to be honest!" he says the minute you mention 2000, anxious to correct any impression that he found anything in his results satisfactory. "For me it was not an easy or calm year. We had so many problems, and having to talk to the press all the time and saying what was wrong, thinking at home about it all the time, was not easy. If you are successful you sit at home happy because everything is working out. But with the season we had last year, it's really tough."
He says that he did not discuss his possible Sauber drive with Alesi, which seems odd and suggests that they didn't get on too well off-track. "No, not at all," he says. "No, it was okay with Jean. But the fact that we didn't have any success made it very hard for all the team. We all tried to be optimistic, but it was especially difficult at the end of the year when nobody knew what engines we would get. There was always some kind of question over us."
In the end the whole Sauber thing was settled quickly. "I left it all to my manager, Werner Heinz, and it all came together quite fast," he says, relief evident in his tone.
Today Nick Heidfeld smiles when people mention motivation, and says that at the tender age of 23, with the world before him, it shouldn't be a problem. Sure, 2000 was a tough year, but already he has begun to bounce back and testing performances in the Sauber C19 and then the new C20 suggest that he might spring a surprise or two this year. No wonder he looks like a different man to the young boy who looked so depressed at times last year.
He is clearly delighted to have a car that enables him to express himself, and to start to demonstrate his talent.
"Yeah, I hope it's gonna be good, because all of our testing has been very encouraging. I just hope that we can do the same performance in the races. So far we haven't really had much chance really to compare ourselves with anyone else, but it's been looking good."
He admits, though, that you can usually tell if a car is good. "The C20 definitely feels good. In Jerez we have already been quicker than we were with the old car, without a lot of work on the set-up and with less downforce, obviously, because of the change in the rules. I'm quite confident, but I am trying not to be overconfident."
He had settled in quickly to Peter Sauber's team, but is careful not to offer any comparison with Prost. "I think there is not a big difference between any of the teams in F1," he says, feeling his way. "They are all quite professional the way they work. There were definitely things that were not good at Prost last season, and obviously there have to be reasons why reasons why the team is not so successful."
Being in a team where German and English are spoken (he is fluent in the latter in addition to his native language) will obviously help, though he points out that English was the language chosen for all of Prost's technical meetings.
Effectively he has been thrust into the role of team leader at Sauber, in only his second season of F1, but he is cautious about claiming any bragging rights. "Well, I may be team leader on experience, but there is no number one here. I don't think it's going to be a problem. I had three years of testing with McLaren, and obviously they did a lot of things that meant that I learned a lot. It was good testing. I have a full season of racing behind me now, I like to work with the engineers and to spend a lot of time thinking about my work in Formula One, so I think it's going to be okay."
That's something that he learned during his three seasons testing with McLaren, but ask him whether he has been able to take some of the champion team's culture and discipline with him to Sauber and his diplomatic side comes across.
"I will try to do that, but you have to try to do these things slowly," he says carefully. "You cannot simply jump into a team and start saying, 'Oh, this is completely wrong!', or whatever. It is also not the case, but you also have to be a bit careful not to go round saying, 'They do this a lot better than you do.' You have to be subtle, and you have to prove yourself to the team before you can even think of saying anything constructive about how another team runs its operation."
He is already greatly encouraged by just how much better the Sauber C20 is than the old C19, which he drove with both 2000 and 2001 levels of downforce. "With more downforce, like it had when racing last year, it was okay," he says. "But I have to say that it doesn't make a big difference. I thought there would be a bigger difference to drive the cars, but that's not the case. It feels almost the same. In fact, when we ran the C19 with 2001 downforce in Barcelona, I was as quick or even quicker than I had been with it with 2000 levels of downforce."
He's encouraged that, in Sauber's case at least, the regulations changes haven't made much difference to the lap times. "Even in the quick corners at Jerez we were as quick with the modified C19... The car definitely improved, and the C20 is better still."
In common with most drivers, Heidfeld dreads the return of traction control and very definitely does not see it as a bonus, though he is philosophical about it. "I don't like the idea at all," he states vehemently. "It's one of the biggest jobs of the driver to control the car with the throttle. But on the other hand it is very bad to know that some other teams use traction control illegally. You can hear it, for sure! Some cars definitely sound different. I would prefer not to have it at all, and that it could be policed properly. But..."
Ask him what advice he has given to his new team-mate, Kimi Raikkonen, for his first year in F1, and he has an interesting answer that sounds a trifle evasive but isn't meant to. "It's most important for everyone to make their own experience. It's very difficult to explain something, especially about driving style, but learning by doing is the best way. But he has already done a very good job, coming from only 180 bhp in Formula Renault. He has been very good in the way he has behaved, he's very cool, very relaxed and didn't get over-excited. He didn't make too many mistakes in the beginning, and the lap times were okay."
The two of them will doubtless push each other hard, while at the same time trying to take the team forward. "Yes," Heidfeld agrees immediately. "That's our goal, but I don't know if it will work out like that! I think Williams has shown in the past that it's not always bad to fight your team-mate as long as you drive the team forward. But I don't want to have a bad relationship with Kimi."
What he really wants is to exorcise the ghosts of 2000.