Features - Exclusive Interview
FEBRUARY 26, 2001
Jenson Button: Telling it like it is
BY DAVID TREMAYNE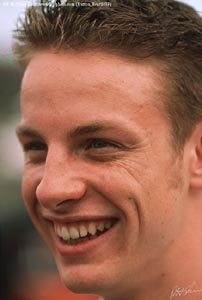 © The Cahier Archive
This time last year Jenson Button was still reeling from his selection by Sir Frank Williams to be Ralf Schumacher's partner at BMW Williams. Now, a year on and already halfway to being a seasoned pro, Britain's great new hope isn't getting carried away by the pre-season hype.
This time last year Jenson Button was still reeling from his selection by Sir Frank Williams to be Ralf Schumacher's partner at BMW Williams. Now, a year on and already halfway to being a seasoned pro, Britain's great new hope isn't getting carried away by the pre-season hype.
Traditionally, the weeks leading up to the first Grand Prix of the season are the time when all things are possible. Nobody really knows what con figurations other teams are running during testing, though the shrewd have a pretty good idea.
When Renault Sport and Benetton launched their new challenger, the B201, in Venice recently, many succumbed to the temptation to overlook dismal testing performances with the old B200 and the new car. They got swept along on the inevitable tide of hype and optimism.
Not Jenson Button
In the clearest possible indication he could give in the circumstances that he is no wide-eyed kid salivating in the candy store, the 21 year-old stroked his rudimentary gingery beard and shot from the hip.
"It's great to be with the team and to grow as it does over the next two years," he began, "and it's great to join when Renault has just come back. But we have to appreciate that we are behind already."
As team-mate Giancarlo Fisichella mouthed the empty platitudes of hoping to score his first Grand Prix victory, because that is what is expected of drivers at such functions, Button continued: "I will be looking for some great finishes, but not until the second half of the year as we build in preparation for 2002. The team is hoping for some good finishes in the first part of the season, but it's not going to happen. What I really want to see, however, is that we are improving at every race."
This is not just candor at its best, but should be something that will warm the cockles of Renault Sport and Benetton's heart. It has a driver who was feted beyond expectation in 2000, yet who is level-headed enough to recognize the change in his circumstances and to be able to relay it without running down a team that is trying its best to move forward. At a stroke he has defused any great expectations for 2001 from a media hungry to boost him into a national cult figure in the way that it did predecessors such as James Hunt, Nigel Mansell and Damon Hill. And cannily he has laid the groundwork for surprise if Benetton gets its act together sooner that the team itself expects.
This speaks volumes for the inner character of a 21 year-old who has a beautiful new girlfriend (Louise Griffiths), a dramatic new mansion in Weybridge and an apartment in Monaco, and a new Princess gin palace for those times when walking or driving simply won't do.
Flavio Briatore is already showing signs of falling in love with his new driver the way that he did with Michael Schumacher back in the glory days when Benetton was the upstart kid on the beach kicking sand into the faces of Williams, McLaren and Ferrari.
"What Jenson has done already in F1 is remarkable and I have no doubt we have an outstanding talent. A lot of people are comparing him with Michael Schumacher and I can see why. We also signed Michael when he was a young driver."
What Briatore did not reiterate at the launch was his belief that Button is better at this stage of his F1 career than Schumacher was. But in private I n recent months he has made such comments. "Absolutely!" he will tell you. "No question in my mind about that!"
But he is keen not to make the sort of comparisons that will further load up the shoulders of a young man who many expect will find himself the natural leader in the team as it progresses.
"I don't want to do that because that is the type of pressure no driver needs. He is not the new Michael Schumacher, he is the first Jenson Button and he should have a great future in Formula One," he stresses.
"You don't get many opportunities to sign a young driver like this. He is quick, intelligent and shows a lot of maturity for his age. But he needs time, as all young drivers do. He knows he can't expect to be racing for wins yet. But the public must also understand that and not look for miracles. We hope by the end of the season he can be high up the field, have some good results and, who knows, maybe make the podium.
"The important thing is to put everything in place for next year. Then we hope to really start competing and Jenson will be right there."
Button took in all the hoopla in Venice with seasoned aplomb, smiling a lot and maintaining the approachable character that was so evident in his Formula Ford and F3 days. If he is disappointed to have been obliged to step back from BMW Williams, and what will undoubtedly be a very competitive car, he keeps it very well hidden.
"It's difficult to say how things will go," he reiterates patiently. "The start of the season's going to be very tough. We're a bit behind where we are supposed to be, so I don't think you'll be seeing great results in the first half of the year. We're really gearing up for the future. We'll be concentrating on the final few races, where we hope we'll be really strong."
Briatore is not the only man at Benetton who believes in Button. Technical director Mike Gascoyne is also taken with the young driver's calmness and intelligence.
"I think Giancarlo has to beat Jenson, consistently and decisively, through the coming year to maintain his reputation as a possible future World Champion," he says. "But Jenson was enormously impressive last year, more than one could expect for a driver in his first year. Giancarlo will have his work cut out."