Features - An appreciation
NOVEMBER 18, 2005
Jabby Crombac
BY DAVID TREMAYNE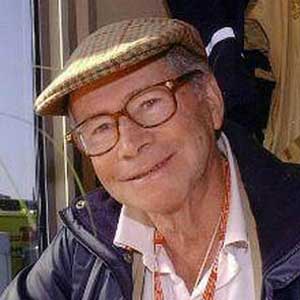 Jabby Crombac died as he had lived, with a strong heart and no regrets.
Jabby Crombac died as he had lived, with a strong heart and no regrets. He was the doyen of Formula One writers, whose career embraced not just outstanding journalism and the co-founding of the monthly Sport Auto magazine in France, but spells as a representative of the FIA, as manager of Matra, as a driver manager and as Lotus chief Colin Chapman's European agent.
Just weeks before his death on November 18, he spoke cheerfully from his bed in a hospice where he was being treated for incurable cancer.
"I have had a wonderful life," he said, "and I am quite content."
More often than not he was far stronger than the many friends who phoned him there to speak for what both parties understood would be the last time.
"You know," he said brightly, "I had a call from a man who I had helped back in 1964 and to whom I had not spoken since. He had gone to enormous trouble to find out where I was when he learned of my illness."
Crombac, who was not a man overburdened by ego, was clearly chuffed, but to others it was no surprise. In the press room he was known respectfully as "Legend" and his fund of anecdotes was a testament to the time he had spent in the sport.
Stealing away from the family's furniture business in Switzerland, he snuck off to join the great Raymond Sommer in 1949, and was even forgiven for inadvertently setting fire to the racer's roadgoing Lancia Aprilia.
"I got the job as a trainee mechanic," he said. "When I say that, I was actually sweeping the floor. We were running on castor oil which is a very, very sticky thing, and after a race to clean that is a hell of a job. We used methanol and had to be very careful not to damage the paintwork. In those days you didn't take the bodywork off in seconds; it was bolted with flat bolts with two little holes and you had a pronged fork. As these bolts were stuck by the castor oil, so it took nearly half a day to undress the car on a Tuesday morning. And then I had to clean it, and so forth, and clean the tools. I wasn't allowed to touch the engine at all..."
Later, he forged a special relationship with Chapman. Jabby's son was named Colin James after Chapman and Crombac's other great pal, Jim Clark.
To his eternal credit, Crombac was able to forge such close ties with a team - as later he also would with Matra - without compromising his journalistic integrity. He and Clark shared a flat in Paris for a time, during the Scot's tax exile from his homeland. Later Crombac inherited the champion's Lotus Elan, which he kept in a garage that was an integral part of his house.
"Of course, I was already close to Lotus when Jimmy came along, but there is a thing; amongst my numerous British friends of the time I was very close to Ron Flockhart, and through Ron I had a special link with Scotland. Gregor Grant of Autosport was a real Scotsman, too, of course, so I was feeling close with Scots people and that sort of got me close to Jimmy. We immediately hit it off and, I don't know, somehow we were very close. I always said that the two reasons why I got on so well with Jimmy, contrarily to some other people who certainly did more for him than I did, were one, that I never once discussed money or borrowed money from him. And two that, though I had a lot of opportunities, I never chased one of his girls, even if he was through with her. I had many opportunities, I can tell you, but I never chased any of his exes! I think he appreciated that."
It was surprising, given their friendship, that he never felt moved to write a biography of Clark. Once, when asked why he had written about cars but not drivers, he replied: "Drivers lie to you; cars don't."
He was also very friendly with Graham Hill, who actually worked as a mechanic on Crombac's own Lotus Eleven. Later Jabby took Jochen Rindt to Le Mans in 1964 with Luigi Chinetti, who was close to Crombac's partner in Sport Auto, Jean Lucas. A year later Rindt won the race for Chinetti's NART team.
"I had been helping Jochen quite a bit early in his career," Crombac recalled, "and I was helping these guys not because they were racing drivers but because they were friends. For me, the fact that a man is a racing driver doesn't make him a special hero. My heroes are the engineers: Colin Chapman, Gordon Murray, Patrick Head and John Barnard."
Unlike many outstanding writers, who fade after becoming mired in one particular era, Crombac had a master's ability to remain up to date. In the early 21st century he was as fascinated by the wide-angle Renault V10 as he had been by the bolts on Sommer's Talbot. He always preferred to look forward rather than back, but tackle him on any subject and he would have a ready anecdote. When Peter Collins and I visited him in 2002 to talk about Jimmy Clark, I noticed a photo of Mickey Thompson's Autolite Special land speed record car on the wall.
"Don't tell me you knew him as well," I said, surprised that his path would cross into that area of the sport but already inwardly aware of the imminent answer.
"But of course!" Jabby said with a laugh. "His sister was in love with me!"
And so it went on. To upcomers, Crombac was the real deal, an erudite and opinionated yet kind and modest man who remembered everything and was only too happy to share his knowledge, unlike other much-vaunted writers who sometimes parcelled it out only to selected friends.
"The secret is in Formula 1," Jabby would say. "It is still a fantastic thing. If Formula 1 was not interesting any more I would drop it immediately. But I am still fa-scin-ated. And what really fascinates me is that when the regulations are published all the engineers find a way around them. That is what I like!"
When the mood took him he could be outspoken.
"Monaco is Monaco," he once observed. "As far as the glamour and prestige is concerned, Monaco plays a very important part. But to think that for several years we had to put up with Jerez. Jeez! I like to drink sherry, but it can be exported!"
And then came that trademark laugh. "Heh, heh, heh!" Just like the cartoon character Dick Dastardly. It was as distinctive as some of his other subconscious catchphrases. The "but wait a minute", with which he often started contentious statements. Or his pronunciation of de Cesaris as Sesaris, downforce as doanfoss. His description of a loud noise as being like an "attombom".
When Jimmy Clark was killed at Hockenheim in April 1968, Crombac was at Brands Hatch for the BOAC 500 sportscar race.
"Of course, when I heard about it I flew straight over. Yes, it certainly was devastating, but I can tell you I was at the next race in Spain, rejoicing at Graham winning. For me, motor racing is a little bit like a religion. It is in my blood."
When friends communicated their feelings for him over the phone in his final days, Crombac was touched but insistent that life should go on and that they should not mourn him.
"I have had a wonderful life. Who else can say that they saw the eras of Ascari, Fongio, Moss, Clark, Lowder, Proast, Senna and Schumasher? I have no pain, and I have finished writing my memoirs. I am happy."
Jabby Crombac was unique. Distinguished by his tweed cap and beloved pipe, he was a very special man who never fell out of love with F1 in the course of more than 500 Grands Prix. Those privileged enough to know him were enriched by the friendship, and while his sport is immeasurably poorer for his passing, the Legend's legacy will live on.