Features - Exclusive Interview
MARCH 5, 2001
Luca di Montezemolo
BY ALAN HENRY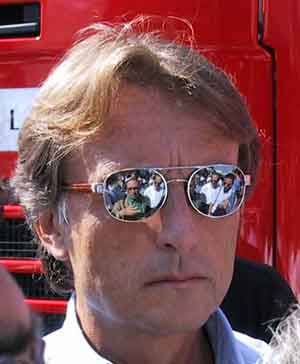 © Inside F1, Inc .
Luca di Montezemolo is more than just the public face of Ferrari. He is a distinguished personality in his own right in Italian sporting circles, his two spells at Ferrari from 1974 to 76 and from 1992 to the present day, sandwiching jobs with Fiat, Cinzano and running both Italy's first America's Cup yachting challenge in addition to the 1990 World Cup.
Yet when Michael Schumacher won the 2000 Japanese Grand Prix, thereby clinching the first Ferrari driver's championship for 21 years, it was a momentous day for Bologna born Montezemolo who originally left Rome University in 1971 with a law degree.
"For me, getting the drivers' world championship back to Ferrari was maybe the biggest professional satisfaction of my life," he insists.
"Sure enough, I won the title in 1975 as a team manager, but that was different. I was not chairman and managing director then. Enzo Ferrari was still there."
Since the team won last year's world championship, di Montezemolo is still recognized and cheered by the average man in the street. He feels that a huge burden has been lifted both from the shoulders of both the team and its supporters. In winning the title, Italy has regained its self-respect on the international motor racing stage.
"It was fantastic," he enthuses. "After three years of frustration, of losing at the last moment, we were finally back on the top, even though, for me, it had been a big satisfaction to win the constructors' championship alone in 1999.
"I like the constructors' championship because, after all, Ferrari is a car maker, and we won that title in 1999 without Michael (Schumacher) for half the season, which was a big satisfaction for us all."
Di Montezemolo has a keen awareness of Ferrari's sense of tradition, a fact which makes him such an effective operator. His conversation is peppered with much characteristically Italian gesticulating, his passion for Ferrari's heritage bubbling away just below the surface.
When he made what he describes as a "life choice" and returned to Ferrari in 1992, the formula one team was on the ropes. Montezemolo lovingly reassembled its component parts, thanks largely to an inspired choice in appointing the former Peugeot competitions manager Jean Todt as sporting director in 1993.
"When I bought Jean Todt into the team in 1993, it was a controversial decision," he said. "He was a Frenchman. He didn't know F1. Now Todt has re-signed to stay with us until the end of 2004 which means he will then have been with us eleven years, something of a Ferrari record."
He is also lavish in his praise for the technical department. Ross Brawn, he describes as "one of the very best engineers," also adding "but he has also totally embraced the Italian culture. He is not here reluctantly."
"We will never accept pay-to-view-only television coverage of formula one"
LUCA DI MONTEZEMOLO
Chief designer Rory Byrne is described as a "unique character who I like very much," and he is also quick to praise Maranello's most high profile, home-grown talent in the form of F1 engine department chief Paolo Martinelli.
Unsurprisingly, he also reserves unstinting praise for Michael Schumacher. "For me, Michael is far the best driver in the world, as a person somebody who is very close to the team, very correct and reliable," he said, "particularly in difficult situations. I like him very much."
Yet while di Montezemolo talks with great passion about cars, drivers and famous races long past, he also has a keen appreciation of Ferrari's position at the epi-center of formula one politics and commerce. He knows that his team is the sport's biggest box office draw and knows how to harness that influence to get his way.
In particular, he has his own firm perspective about the commercial future of formula one at a time when Bernie Ecclestone, the sport's commercial rights holder, is in negotiation with German media companies Kirch and EM.TV about selling a controlling interest in his business.
Di Montezemolo clearly favors the alternative of Ecclestone selling a stake in his business to the major international car makers, including Fiat, Ferrari's parent company.
He specifically warns that he will have nothing to do with any deal which may shift the emphasis of formula one television coverage from terrestrial channels to a pay-to-view basis, something which Kirch clearly has in mind. In his mind, there is a clear obligation to race fans who revere the Ferrari name on a global basis.
"We will never accept pay-to-view-only television coverage of formula one," he says vehemently. "It is absolutely against the future interest of both Ferrari and formula one as a whole. It is unbelievable. I will never accept it for Ferrari."