Features - Exclusive Interview
JUNE 3, 2001
Jenson Button: Button hoping for Renault kick start in French GP
BY ALAN HENRY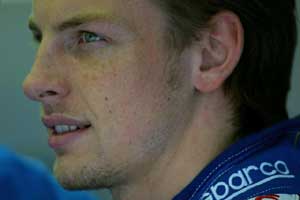 © The Cahier Archive
Jenson Button faced the glitz and glamour of the Monaco Grand Prix as the F1 driver who has everything. Apart from a competitive car.
With a income of around $3m a year, Button is now living in Monaco. The 21-year old millionaire seems to be relishing every moment of his high profile existence to the point where one is tempted genuinely to believe his bright-eyed enthusiasm for the postage stamp state.
"I've always wanted to live at the seaside, " he said last week. During the GP weekend Button's new 71-ft luxury yacht took its place amongst the toys of the international glitterati in Monaco's tiny harbor.
"Monaco is really cool," he says. "It's a really nice place to live. People say I'm only living there for tax reasons, but it's not true. It's an amazing place. I live almost in Italy, at the other end of Monaco to most of the other drivers who are at Fontvielle. Very nice, away from all the other drivers."
On the strength of his performances last year for the BMW Williams team Button was nominated as Newcomer of the Year in the prestigious Laureus sports awards which were presented in Monte Carlo in the week before the GP. But in the end that award went to the Russian tennis player Marat Safin.
"It was great to be nominated," said Button, "but it was on the strength of my performances for Williams last year. I don't think I'd have a hope of being nominated on this year's showing so far."
There is a endearing straightforwardness about Button's character which prompts fleeting memories of days when motor racing was less intensely obsessive and more of a purely sporting pastime. However, it would be a mistake to judge Button as anything but a deeply committed sportsman, a true child of the professional age. His managers, businessman David Robertson and former racing driver Harald Huysman, have been shrewd when it comes to marketing and negotiating contracts for "the boy."
"People say I am cool, but that's because I believe things will get better."
JENSON BUTTON
F1 is a business characterized by high hopes and short memories. Last year Button's star was rising dramatically as a freshman member of the BMW Williams team, a dazzling newcomer capable of qualifying third for the Belgian Grand Prix on the daunting Spa-Francorchamps circuit. This year, thanks to Williams's decision to honor a prior commitment to Juan Pablo Montoya, Button has been sub-contracted by the top team in Division Two to a team currently struggling at the bottom of Division Three.
The dilemma with the current Benetton-Renault is quite simple. The much-touted, low, lightweight Renault V10 engine is developing around 720 horsepower. Formula one's pace-setters, Ferrari, McLaren-Mercedes and BMW Williams, currently have engines developing about 840 horsepower. That is all you need to know.
At the French Grand Prix on July 1 that should change. Renault has promised a major leap in engine development which they hope will go some way to endorsing their firmly held view that the V10 has considerable long-term potential. So where does Button believe this can take him?
"Very difficult to say, but it will definitely be an improvement," he said. "We won't be (qualifying) in the top 10, but hopefully we'll be up around the Jaguars in 12th or 13th positions."
It has been a frustrating year but Button has stayed relaxed, despite the first question marks appearing about his ability. Giancarlo Fisichella has, to date, done better than Button.
"Throwing the toys out of the pram doesn't help," says Jenson. "People say I am cool, but that's because I believe things will get better. I am 100 per cent confident in that."
Lack of testing miles, lack of power steering on the Benetton - a luxury he enjoyed at Williams - and a resultant shoulder problem have all bugged his progress this year. But he is confident the shoulder has now recovered.
David Robertson says he believes that Button could eventually win three World Championships and be "even greater than Michael Schumacher."
It's a good sales pitch and time is certainly on Button's side. That said, there is no obvious short-cut back into a competitive Formula 1 car. His contract with Benetton lasts until the end of 2002 after which Williams has the option of taking him back. But nothing is certain.
"I haven't got a clue at the moment," Button says. "The priority is to sort out Benetton first. See how that goes, and then look to the future."