Features - Exclusive Interview
DECEMBER 7, 2000
Bobby Rahal: An open ended commitment
BY ALAN HENRY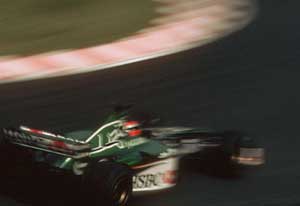 © The Cahier Archive
When Bobby Rahal was recruited by Jaguar Racing to take over as chief executive officer, the reaction within the F1 jungle was mixed. If there is one myopically introspective quality about the Grand Prix business it is a belief that only those established leading players inside the exclusive enclave have any real grasp of how to handle the sport's problems. Outsiders are neither qualified, nor welcome.
Accordingly, some rivals viewed Rahal's recruitment with a patronizing blend of indulgent amusement and dismissive superiority. Others, more shrewdly perhaps, acknowledged that Rahal was no fool. One of the most successful, versatile and shrewd operators on the CART scene, the former Indy 500 winner and champion driver was also a team owner of some repute and had carried out the role of acting CEO for CART after the departure of Andrew Craig.
Rahal was also a nominee of the understated, yet shrewd Jaguar Racing Chairman Neil Ressler. Primarily, he was recruited not simply to provide a name at the helm of the company with which outsiders could identify, but also to impose a root and branch restructuring - where necessary - to raise the standards of Jaguar's F1 game.
Yet nothing could quite prepare the F1 fraternity for the cull of senior Jaguar Racing engineering staff last week, topped by the replacement of technical director Gary Anderson. Yet Bobby did not shy away from making what he saw was an urgently necessary - if inevitably unpleasant - decision.
"These things are always very tough," he admits candidly. "In a management role it is always one of the more distasteful aspects of business life when one had to make somebody redundant. It is not a fun scenario by any stretch of the imagination.
"But, in this case, Neil and I felt that Jaguar Racing urgently needed a culture change in its technical approach to things. If you are to expect your workforce to rise to the occasion, to take up the challenge, then you need somebody in this sort of role who was going to set the right tone and lead by example. So we needed a change.
"We're here to win, that's for sure, but it also isn't going to happen for a while."
BOBBY RAHAL
"People have since asked me 'was it the right time?' to which I replied, there is never a good time for these things. But we decided that we had to make the break with Gary, so we should get on and do it."
Rahal freely concedes that it was Ressler's clear thinking and precise vision which has helped mold the way in which Jaguar Racing is now thinking for the future.
"The guy who deserves the credit for this, the reorganization and the new factory plans at Silverstone, is Neil," insists Rahal. "Last season was a difficult time for him because he could heard the criticisms, but couldn't always answer them because he knew what was planned in the longer term."
Rahal indicates that he is quietly satisfied to hear from some quarters that the perception of Jaguar Racing has subtly changed within the F1 community over the past couple of months. Previously, some had regarded the whole operation as just the latest manifestation of Ford's listless and unconvincing approach towards the F1 business.
Now, with the reorganization and plans for the massive technology center to be built at Silverstone, there is an increasing awareness that Jaguar's F1 project means business.
"That's very gratifying to hear," says Rahal with a genuine modesty which seems strangely out of place in the grand prix environment. "Now we've got to deliver. I've got a three year deal, but in reality it is a pretty open-ended commitment. I'm 100 per cent committed to the F1 program and I'll be spending all my time over here to give maximum effort to seeing it all through."
But what about his CART operation? How much time will Bobby be able to direct towards that over the next couple of years. He doesn't see this as a major problem and is unlikely to be attending many CART races in 2001.
"To be honest, while I can certainly advised them on the bigger picture, it's organizationally a mature organization which can operate without me being there on the ground all the time," he concedes. "Particularly in this era of sophisticated electronic communication.
"I'm being very realistic about my approach to the Jaguar program. We're here to win, that's for sure, but it also isn't going to happen for a while. That said, now is the time that we need to be putting things in place for the future, otherwise we won't be in a position to realize our ambitions."
Interestingly, Rahal's wide perspective on the F1 and CART horizons leave him awaiting another team's developments with a sense of fascinated anticipation; Juan Montoya's F1 debut with the rival BMW Williams squad. Bobby makes no secret whatever that he is a huge fan of the young Colombian star.
"I was never around to see Jimmy Clark race, but he had the opportunity to dominate his era in just the same way as Ayrton Senna did later, and I think Juan is just the same," he says profoundly.
"Given that he is just 24, and the likes of Schumacher will probably not be around for many more years, I think Montoya has the potential to perform on the same sort of level as Senna and Michael.
"To me he is quite simply the best driver I have ever seen. Something special, by any standards. Nothing fazes or over-awes him. When he went to Indianapolis this year he wound up the traditionalists by his lack of reverence for the place. To him, this was just another motor race and he blew them all away to win it. He has a remarkable talent and I think he has the capacity to shake up F1.
"I'm just disappointed he's not driving for me!"