Features - 2010 Grand Prix Review
JANUARY 22, 2011
Virgin Racing: shooting at a moving target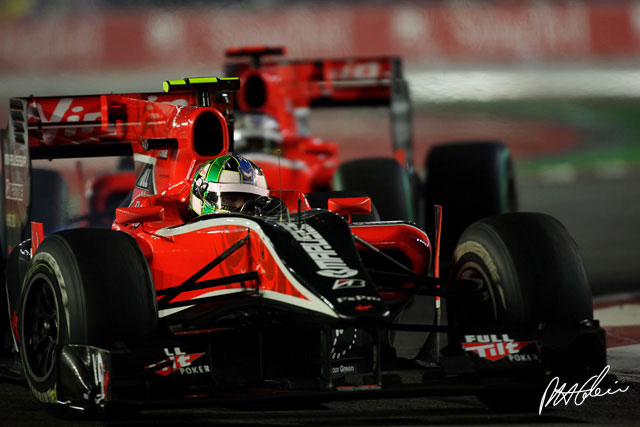 © The Cahier Archive
If anything was predictable about the 2010 F1 season it was that the three new teams were going to be in a separate championship. Virgin Racing was born at a time when Max Mosley was talking about a 30m pounds budget cap and the very future sustainability of F1.
If anything was predictable about the 2010 F1 season it was that the three new teams were going to be in a separate championship. Virgin Racing was born at a time when Max Mosley was talking about a 30m pounds budget cap and the very future sustainability of F1.
Experienced in racing terms rather specifically in F1, Manor boss John Booth joined forces with Nick Wirth to take on the onerous task of building an F1 outfit from scratch, using only CfD.
"I was introduced to Nick back in March 09 when the budget cap concept was introduced," he says. "There was going to be 30m pounds TV money, that was going to be the cost of the season and it all sounded like a great idea. We were all pumped up and going for it and started the application process. That was quite strict and luckily we had some racing infrastructure and could tick all the boxes. But it was still a massive surprise when the announcement was made on June 12! I think Nick had a few sketches on the back of a cigarette packet..."
Before they knew it the team was meeting prospective sponsors at Silverstone for the British Grand Prix on the very day that F1 threatened to implode amid commercial acrimony and the threat of breakaway championships - again. Hardly the greatest of starts...
Against that landscape the new teams were very much needed as an insurance policy by F1's power brokers. But, once it was obvious that a breakaway was no more likely than at any other time during the previous 30 years, that was not quite so true. There would be no performance breaks for the newcomers, as promised, and the question was whether or not to continue.
"Raising the 90-100m pounds to do it as other people do was a no-go for two reasons," Booth says, "First, it would have been impossible to ramp up the operation to utilise that amount of money, and second, I'm not sure it's out there in the current climate. We took the decision to continue but within the financial framework we'd decided on for the old regulations - and we could only do that because of Nick's CFD capability."
The team was caught out in slightly embarrassing fashion when the VR01's fuel tank was too small. The fuel density wasn't quite what they thought and there was no refuelling on the grid either. "If we'd had an easier run in testing we'd have had time to do something about it less publicly but testing was so difficult, with so many problems," Booth explains.
Like all the new teams Virgin suffered problems with hydraulics - the first time that Xtrac had done the whole transmission system rather than just the gearbox internals, with Wirth Research also involved. Testing was hampered by repeated problems with the differential and when it became obvious that the car could not finish the higher fuel consumption races, a new, longer chassis had to be built. That meant delaying performance development that had been scheduled for the first European round at Barcelona.
"Everything connected with the hydraulics was such high pressure that the smallest impurity, crack or fault was a car stopper because it controls four or five major components," Booth adds.
These were all set-up operational issues but the concept of CfD reliance did not worry him at all. "In fact," he says, "my prediction is that wind tunnels will be a thing of the past and by the time Malaysia1 (Lotus Racing) get theirs built, they will be redundant. When you look at the pace of development, particularly in the front wing area, there's no way that can be done in a wind tunnel -- there's not enough hours in the day. People will start splitting the resource much more towards CFD."
The revised, 135mm longer Virgin chassis was initially a bit slower but that was masked by an aero upgrade and developments for Silverstone and Hockenheim proved to be decent steps forward. The team also found that the car was a bit harder on its rear tyres than some, possibly a result of an overall downforce deficit.
For Glock, a switch from Toyota to Virgin Racing was a case of the sublime to the ridiculous in terms of budget and resource but Booth had nothing but praise for both drivers, although Lucas di Grassi makes way for Jerome D'Ambrosio in 2011.
"It would have been very easy for them to get disillusioned, Timo particularly coming from Toyota, but they were patient and supportive. With Lucas it was almost like taking two experienced drivers. He'd done so much testing with Renault, is intelligent and understands engineering, so we got useful feedback from day one."
Co-ordinating the operation can have been no easy task with Booth's guys forming the core of the 50-strong travelling team, another 14 in the commercial department in London and then the Wirth Research operation with around 85 dedicated to F1 and five travelling engineers under Mark Herd, son of March founder Robin, as head of performance engineering.
The task of building up an outfit from scratch capable of fielding two F1 cars 19 times a year all over the globe should not be underestimated and there is no doubt that the Virgin lads worked as hard if not harder than anyone when one considers the reliability issues they also faced. It must, therefore, have been demoralising to hear the likes of Luca di Montezemolo regularly denigrate their efforts and have Bernie Ecclestone refer to them as an "embarrassment." At one stage it was also mooted that Richard Branson should invest more.
Booth, however, springs to Branson's defence: "I think it was most unfair to suggest that Richard should put his hands deeper in his pockets. He was very brave joining a start-up operation that might have gone horribly wrong and he's been supportive throughout and brought us new backers."
In 2011 the new teams will face another handicap in that the gap to the front-runners will grow due to the lack of a KERS system but Booth is confident that the task will be easier than it was in 2010. Despite the lack of a wind tunnel he has every confidence in Wirth's desire to push the boundaries of CfD and in the use of Wirth Research's two simulators. He is hopeful that a better hydraulics system and improved reliability will this time allow the team to concentrate on going quicker.
Fourteenth places from Di Grassi in Malaysia and Glock at Suzuka were the team's best 2010 results and they finished below HRT in the final championship ranking due to the Spanish outfit managing the same result one more time. At times though, the Virgin was the quickest of the newcomers, even if Richard Branson did lose his 'best new team' bet with Lotus Racing owner and fellow airline guru Tony Fernandes. Branson now has to dress up as an air stewardess and seve food on one of Air Asia's flights...
That would be interesting to witness, as will seeing whether, using exclusively CfD but hopefully without the reliability bugs, Wirth can serve up a performance jump in 2011.