Features - 2010 Grand Prix Review
JANUARY 30, 2011
Sauber: Key developments at Hinwil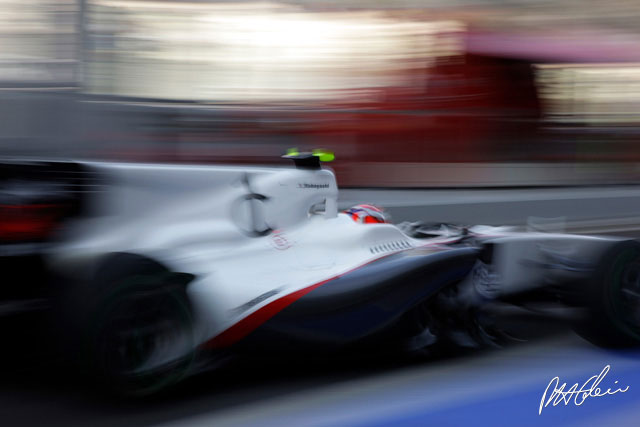 © The Cahier Archive
Going into 2010 Sauber's position looked precarious. There was the BMW withdrawal, the buy-back by Peter Sauber, the 11th hour entry debacle and promising testing times that looked increasingly like sponsorship runs when the C29's performance was revealed in the first few races.
From there, the team made progress and Peter Sauber gives much of the credit to technical director James Key, who left Force India to take up his new role in Hinwil.
"The car had done three races (with one 12th place to show for them) by the time I arrived but one of the things that attracted me to Sauber," Key says, "was the combination of an efficient small group of people but with all the tools needed to do a good job. All the investment made over the years by BMW and Peter Sauber has put the team in a very good position. On the aero side it's fantastic, absolutely top class. You have the facilities to do more in a given time. Things can happen so much more quickly when you have such manufacturing facilities."
But, lacking in performance and with precious little in the way of sponsorship, Key was tasked with leading a turnaround as quickly as possible. If it wasn't quite an emergency it was certainly a red alert.
"There were a couple of things not quite right," he says. "The straightline speed was an issue and the drag number looked to me about 10% higher than I'd expect of an efficient car. The other thing was, the C29 was very stiff, spoiling a lot of mechanical grip and bringing instability. We needed more flexibility in how we set the car up."
The truth of Key's words about response time was demonstrated by the team's reaction to the F-duct, having one on the car in time for the second race in Australia. Initially though, it was a bit inconsistent and they committed to a redesign for Barcelona, the upshot of which was Q3 for Kamui Kobayashi with Pedro de la Rosa qualifying just a couple of slots further back.
Key knew what he wanted to see in terms of aero numbers and the team's mid-season update was aimed at getting the drag down and increasing downforce as well as making the car less sensitive and softening it off. Easy to say but harder to do when a car's characteristics have been dictated by the past six months of development
"Our development direction turned into three main updates," Key explains, "Valencia, Silverstone and Hockenheim. There were mechanical upgrades too - working on the suspension to get better consistency of balance. One of the big issues was that low speed performance was very poor. It was a big inconsistency because medium speed was okay and high speed was very good. The stiffness caused some of the stability issues, particularly under braking - but it was also aero issues, a combination. And there's more time lost in slow corners."
Sauber took the decision not to do a blown floor. They looked at it in CFD and in the tunnel but did not immediately appreciate how potentially powerful it was. Had they started mid season they figured that it would be Japan before it would have been on the car, which was considered to be too much investment in aero time and overall resource for something that would be on the car for four races. "Not doing it was a risk but it didn't bite us too hard," Key says.
Early season, there were also engine reliability issues to consider. "It was one car that tended to get them - Pedro's," Key says. "We looked at it intensively and got Ferrari to check the installation but nothing was particularly different. I think it was just bad luck. As a precaution we changed the procedure on how we chilled the fuel on Saturday morning closer to what Ferrari was doing."
Sauber's driver line-up initially caused some raised eyebrows. De la Rosa was returning to front line race duty after an extended spell of testing and Kobayashi was a rookie, so there was no continuity at all on that side.
"The drivers, actually, were fine and gave good feedback," Key says. "Kamui performed outstandingly for a rookie and the testing restrictions actually worked to our advantage in that we have a full-scale tunnel.
"Both of them identified the same weaknesses in the car. Nick Heidfeld's feedback was very similar. He rightly identified that the tyres were driving some of it, which is what Kamui learned at Valencia in the race! (where he was a superb seventh, passing Fernando Alonso on fresh option tyres at the end)."
Changing the experienced De la Rosa for Heidfeld post-Monza seemed a little tough on the Spaniard. "Both Pedro and Kamui were at a similar level and without the continuity of previous years we were finding it difficult to understand where we were," Key explains. "Kamui had scored more of the points. Was he exceptional - and I think he is - or were we just missing something? It was a very difficult decision but we felt we needed a reference."
In theory, the foundations for 2011 look so much stronger. The Telmex deal has put the team on a more sound financial footing, Key now knows how the place works and has been working on the new car for the past six months, and Kobayashi has rapidly turned into a fans favourite and demonstrated more than once that he's not afraid to race the car.