Features - 2010 Grand Prix Review
FEBRUARY 11, 2011
Renault: Fighting back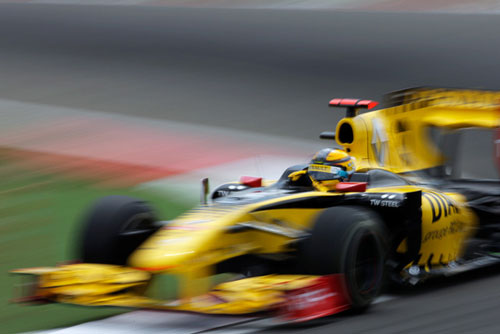 © The Cahier Archive
Renault's performance was one of the unexpected highs of 2010. Yes, they finished fifth, and yes the core of the team had taken Michael Schumacher and Fernando Alonso to world titles, but at the end of '09 the whole team was shrouded in uncertainty.
They had been hung out to dry over Singapore 08 ("Crashgate") and Renault was selling a majority stake. Little was known about Genii Capital and its intentions and it was against that backdrop that the team had to prepare. The one big positive was the signing of Robert Kubica after BMW's withdrawal put the Pole on the market.
"There was lots of speculation but nobody at the coal face can influence that so you just keep going," says new technical director James Allison. "Nobody ever told us to back off and it really didn't impact. I'd say that the redundancies at the start of 09 had a much bigger effect on the team."
The team also had to contend with shutting down its wind tunnel for four weeks in November to put in a new rolling road. Allison has no doubt it was worthwhile.
"Eighteen months before that we'd commissioned a considerably bigger CFD facility, three times what we had in terms of staffing, and that produced a continuous stream of good, solid development work. And now, the tunnel investment was also extremely welcome.
"Before, we had a canvas polyester belt but now, like pretty much everyone else, we have a steel one. The problem with the old canvas belts was that you had to squash the tyre into the belt in order to make it bulge to the correct shape. The canvas belts couldn't tolerate the amount of squash you needed - it just made them overheat and wear out, which was limiting. The steel one also speeds up and slows down much quicker. Although it's only two or three minutes per run, when you do as many runs as we do, that's an awful lot of time -- throughput is so important. Our old road used to take about 30s from one yaw angle to another, whereas this one does it in a couple of seconds. The productivity improvement is substantial, especially now we have limited access to our tunnels through the resource restriction agreement."
The team had done the R30's basic car configuration prior to the new rolling road being installed but estimated that shutting down the tunnel for four weeks cost it around 0.2s. "But," says Allison, "the subsequent rate of development - the gains around the front wing for example - more than justified that. Our floors changed fast too -- we were onto a Mk7 floor by Singapore."
The team did not follow the trend towards higher noses, staying with a lower, broader configuration.
"We tried other heights and widths endlessly but at a certain point you have to commit," Allison says. "You could say, well, we believe a high, slender nose is going to allow the most high energy air to make its way to the back of the car so we'll make it work, but it feels ever so pig-headed making something you know is a little bit slower at that point than your lower, fatter, less fashionable nose! Actually, our nose was higher and slimmer than it's predecessor and and as it bulged over the front wing it generated front downforce."
The great season innovations were, of course, F-duct and the exhaust blown diffuser. By season's end, Renault had one of the most effective F-ducts on the grid.
"We had an inkling about it before it appeared. You hear noises here and there," Allison smiles, "and it was clear what was going on when McLaren launched their car. And the blown floor was very clear the day Red Bull put it on their car at the last test! But blown floors are quite tricky things to do and it took us until Valencia in June. That was realising it was going to be important and putting a lot of effort into it. Ferrari had the same time frame.
"Many teams did the F-duct much quicker than we did and that was just a straightforward decision to push on with all our other developments. We were planning to introduce it at Silverstone but when we tried it in the tunnel we couldn't make it work reliably. I'd seen lots of teams bring it out quickly and then struggle for a couple of weekends, so we canned it and chose a different direction which pushed it back to Spa, where it worked very well.
"With the blown floor, throttle sensitivity was a big issue. It impacted on our set up and was quite a change in the way the car felt -- initially not at all popular! It was tough to introduce with no testing and hard back-to-back test during a race weekend. In Valencia we ran it and it was okay, but with corners that didn't reveal some of its uglier sides. We resolved to settle the matter in Budapest and saw we were better with it than without."
Over the season Renault made progress relative to the leaders, which was encouraging, putting on about 1.7s. Relatively, that amounted to about half a second, a handy advance on a grid with seldom more then a tenth between slots.
With both Alonso and Piquet Jr gone, the team had to cope with two new drivers, never a situation you would choose in an ideal world.
"Inevitably there are issues associated with new drivers and the two biggest areas where we lost a fair amount of development effort were power steering and brakes," Allison explains. "Robert and Vitaly both like a much stiffer brake pedal than we've been used to and it took us quite a while to get that to their taste. In the end we had to commit to a stiffer calliper.
"Both also liked a much lighter car with the power steering than we'd been used to providing. It took a while to do. It's a fiddly bit of machining and a complex thing to get right. They were both saying, 'Look, I'm going to be a lot better when you give me the brakes and steering I want!' At least they weren't dragging us down different routes with it, which was fortuitous."
It took the team, a group of real racers, about five minutes to fall in love with Kubica, and after a winter in which they have had the backing to be adventurous in a bid to bridge the gap to the front, it makes the events of last weekend in Italy, all the harder to take.
This is what Allison had to say about Kubica at the end of last year: "We're very fortunate to have him. If we can give him a car that's even half capable of a championship, he'll get one. And not every team in the pit lane can say that about its drivers. He expects a lot from everyone - he's positive, demanding, pushing. And damned good."
Petrov, Allison thought, ebbed and flowed. "Some weekends he was absolutely first rate, others he struggled. Many things are much to be admired - he's a brave and committed racer and he's not easily flustered in a race (as we saw in Abu Dhabi!). He was also up against a fiercely good team mate without much testing. It was a very tough point in F1 history to be a rookie - and particularly tough for him."
Allison is extremely candid about what the close season means to him. "I live in a state of perpetual fear that everything is not going to be good enough. I find it's better to feel that way so long as you don't get ludicrous about it!"
With pure logic he figured that with an absolutely top driver and the same engine as Red Bull, you didn't need to be Sherlock Holmes to work out why Renault wasn't as quick - they didn't have as much downforce. It would be a bitter pill if they found they had solved that and lost the man who could exploit it...