Features - 2010 Grand Prix Review
FEBRUARY 21, 2011
Red Bull: Now they must do it again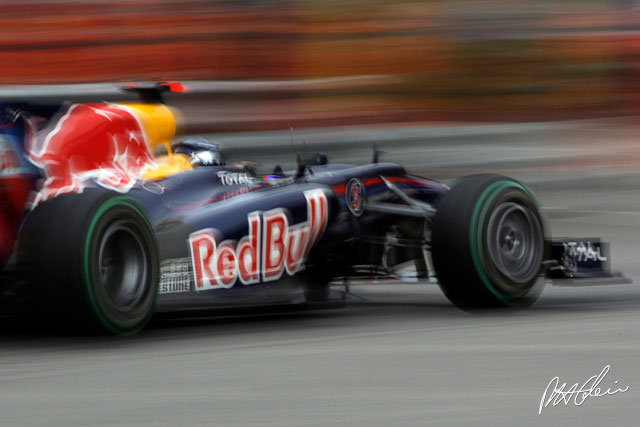 © The Cahier Archive
In 2010, Red Bull Racing overcame Establishment goliaths Ferrari and McLaren. Jaguar Racing had a vision and got nowhere near it. Red Bull pulled it off spectacularly. The great irony is that Jaguar stood more chance of poaching Adrian Newey than Dietrich Mateschitz. At the time they tried, Newey's close friend Bobby Rahal, who the design ace oversaw in Indycar racing in his early days, was calling the shots. Only an 11th hour intervention and substantial salary hike from McLaren's Ron Dennis prevented the defection. That was a good four years before Red Bull took control. By then, Newey was actively looking for new challenges. The timing was good for Christian Horner and Mateschitz.
The team served ample notice in 2009 that they were capable of winning the championship. The RB5 was the class of the field by year-end and RB6 was an improved version. The main difference was an optimised, blown double diffuser, using exhaust gases to increase its efficiency. The team changed the main gearbox casing, which they thought they didn't have the resource to do on RB5.
Red Bull lengthened the chassis to maximise the diffuser slot and while exhaust blown diffusers were nothing new - they were first tried in the eighties - they were novel under the existing regulations.
"They were developed up to the point that diffusers were chopped off to reduce downforce post-Imola '94 and became so short and there wasn't really enough length to act on," Newey explains, "And, where the old exhaust outlet was physically in the diffuser on the underside of the car, that became illegal because the exhaust came to be considered part of the bodywork and there can't be any holes in the diffuser apart from the starter shaft hole. With today's blown floors the exhaust outlet itself is still on the top side of the car but then blows at a slot inside the rear wheel and ends up underneath the car."
Red Bull turned up with such architecture only at the final pre-season test and if they had fried the bodywork they had a fall-back position. It meant that with four flyaways to start the season, there would be a delay before the others could follow suit.
The one thing that the team didn't have was an F-duct. The technology was not unknown to Newey and, he says, had been touched on during his university course, albeit under a very different application.
"The principle is simple and was first established in the Cold War when the Americans were worried that the Ruskies would be able to jam the electronics on their fighter aircraft," he says. "They wanted a pneumatic or hydraulic fluid logic to replace electronics. Effectively an F-duct is a pneumatic amplifier and all credit to McLaren for applying it in that clever way. If I'd known I was designing the car to suit, I might have been able to make it easier to get the porting in and out of the chassis but, in truth, our F-duct, when it appeared, was not badly compromised."
The only area where Newey contends that the RB6 was compromised was in the power department. The team reckoned the Renault was at least 4% down on a Mercedes which, at most circuits, added up to almost half a second a lap. The design ace claims that Mercedes blocked all conversations about Renault being able to redress the balance.
"They systematically went through FOTA and blocked all that. Some even argued that if they gave us an engine performance upgrade, then we should have given them our front wing, for instance. That was actually a conversation with a senior person at Mercedes... We weren't stopping Mercedes or McLaren developing a front wing like ours they were stopping Renault developing an engine to match the Mercedes."
The argument went back to the early days of the engine freeze, when some did rather more than others before presenting their homologated unit to the FIA. Certainly, Red Bull found itself the subject of much sniping throughout the season. Their qualifying speed - they sat on pole for 15 of the 19 races - was outstanding and it initially gave rise to suspicions that they had a ride height device that allowed them to run lower than the opposition in qualifying trim without grounding out when 150 kilos plus of race fuel was added. They didn't.
The circuits where pole eluded Red Bull: Canada, Monza, Singapore, Brazil, told you all you needed to know. Canada and Monza are power tracks, Singapore was about a great lap from Alonso and a mistake from Vettel, and Interlagos was a mixed condition lottery where Nico Hulkenberg got things spot on.
Then, mid-season, front wings became the major bone of contention with it becoming apparent that Red Bull and Ferrari was seemingly able to run their front wings lower than anyone else.
"The front wings did seem to generate a bit of controversy," Newey admits, "which, as I understand it, was prompted by an article in a French magazine after which various teams jumped on the band wagon. The irony is that the regulations quite clearly state that with a 50kg load you are allowed 10mm of deflection. Prior to 2009 it was a 50kg load and 5mm of deflection but, because the wing span went up for 2009, McLaren asked in the TWG (Technical Working Group) that the deflection should be increased to 10mm. So it was rather ironic that they were the ones getting so excited about it!"
Horner and Newey did become somewhat frustrated at the speculation and innuendo but took it as a kind of back-handed compliment that people spent more time looking at RB6 than examining their own shortcomings.
"We didn't have to make any modifications at all to pass the changed front wing test introduced at Spa," Newey states. "For the front floor tea tray test introduced at Monza, where the load is offset from the car centreline, we had to run slightly higher front ride height in common with everyone else in the pit lane."
The other great wing controversy was of their own making and it happened at Silverstone, just six weeks after a controversial Turkish GP at which Vettel and Webber collided when Sebastian was trying to pass Webber 40 laps in after the Australian had led all race from his third successive pole and following on from two straight victories in Barcelona and Monaco.
Webber was irked by what looked like somewhat controversial support for Vettel's position post-Istanbul and at Silverstone, when a new front wing was switched from his car to Vettel's after Sebastian's was damaged, he was livid. The media, with Webber's assistance, had a field day, and the race, when Webber carved inside his pole-sitting team mate at the first corner and scored a faultless win, brought the Aussie's famous one-liner, "not bad for a No2 driver..."
Newey regarded it all a storm in a teacup: "With no testing I frankly wanted to see the wing raced to find out more about it," he says. "Which car it went on, to be perfectly honest, I wasn't bothered. We went with championship position but it could just as easily have been a coin toss. I don't think we ever actually proved a lap time benefit. It was a detail change and it was circuit specific; I felt we would need it for Hungary but at Spa and Monza we didn't run it."
Tracks like Silverstone and Barcelona, where the Red Bull could stretch its legs, were the venues where it demonstrated its clear downforce advantage. In 2009 Newey had enjoyed the fact that the car had gone through Silverstone's Copse Corner flat and when Webber did the same at Barcelona's Turn 9 it brought a broad smile to the technical chief's face.
The really satisfying facet for Christian Horner, the paddock's youngest team principal, was that despite taking a lot of criticism for not getting wholly behind Webber post-Korea, where Vettel suffered an engine failure, the team won the drivers' title precisely because Ferrari had to cover two men in Abu Dhabi and got rattled into a tactical blunder.
The fact that Webber pushed Vettel so hard in 2010 was a surprise to many but not to people who noted his speed in poor machinery in years gone by and who appreciated the fact that he was also in touch in 2009 when he was not properly fit.
"The car was a bit less nervous on corner entry and that was primarily down to the front tyre, so possibly that helped Mark's side more than Sebastian's," Newey says, "But Mark also had his cycling accident prior to '09 and through the first half of that season, I think, must have put on a very brave face."
The average gap between the pair in qualifying was just 0.15s over the season and when you consider Webber's taller, heavier physique and consequently reduced capacity to play with chassis ballast, it was a great effort that ultimately failed by the smallest of margins, largely die to the early race error in Korea.
The impressive part of Red Bull's year is that in no way was it a fluke. They fielded the best car and, truth told, had Vettel not suffered reliability problems early on, through rogue spark plugs and brake issues, not to mention judgement errors at Silverstone and Spa, the youngest champion in the sport's history would have clinched it much earlier. In the final analysis -- five wins to Vettel, four to Webber and 498 constructors' championship points -- the right man and the right team took the titles. Now they must defend them and, their rivals will know, are more than capable.