Features - 2010 Grand Prix Review
FEBRUARY 15, 2011
Mercedes: Not quite so plain sailing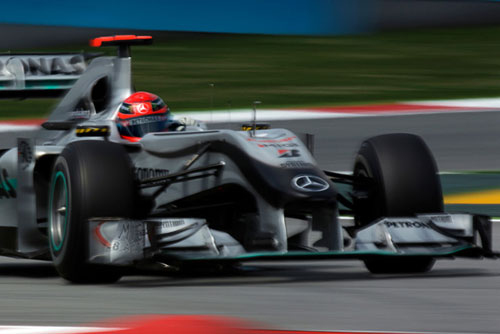 © The Cahier Archive
You could see the attraction of Brawn to Mercedes. Despite being a large stakeholder in McLaren they didn't control the team and never would, whereas here was a chance to do just that, and with a championship winning car and team with Ross Brawn at the helm.
It was obviously too good an opportunity to pass up, but it wasn't quite as simple as that. The '09 Brawn had benefitted from huge Honda investment, a long lead time and 'the unfair advantage' in the form of the double diffuser which, had it been a McLaren or Ferrari initiative many speculated, would have been banned. At the time though, it could have been said to suit the FIA's political agenda. Whatever, there was evidence that in the second half of 2009 Brawn had been overhauled. But, with Michael Schumacher on board as well, the man the three-pointed star had never had in their camp throughout his record-breaking career, what a chance! The result though, was a season that can only be classed as disappointing.
Brawn himself is candid about the issues. "In the normal process of development there is a core idea of what sort of car you want to create and then the various departments contribute to achieving that vision. We got the 2009 vision very easily but this time we didn't have enough clarity about what we wanted to do.
"The car became a bit of a compromise in all sorts of areas. We changed the team quite a lot at the beginning of 09 and I hadn't put in place a robust enough engineering strategy to give the clarity needed. The difference between an average car and a great one is half a second and that's what we trailed by all year."
Brawn necessarily found himself drawn into managerial rather than technical issues and the team had also lost Jorg Zander at the start of the year, which left a bit of a vacuum.
"We weren't adventurous enough," Brawn admits. "For 2011 I see much more aggressive solutions that are well-engineered and we've got a good enough structure now to support them. But for 2010 we couldn't have done those ideas. We couldn't have done a pull rod suspension last year because the group was too fragmented. We'd basically carved 40% out of everything we had and it was as crude as that. Also, it happened very quickly and the only fair way was to say to every department that they had to lose 40% of their staff. It takes a while for that to settle down. Starting a new car after that, you don't feel very confident about taking on anything too ambitious.
"The season started with a couple of interesting technologies that we didn't get hold of quickly enough - the F-duct and exhaust energised diffusers, which was an area we only later started to understand the nuances of. Early in the season we also lengthened the wheelbase to give a greater range on the weight distribution because we were too constrained by the original layout."
The existing F1 rules, with the chassis homologation, also make it tougher to catch up - something that worked in Brawn's favour in '09 but worked against him in 2010. If you don't get it right straight out of the box, there are limits on what you can do.
The Mercedes F-duct worked in a different way and, says Brawn, "we did wonder whether to take a step back to a conventional engine cover. What we had offered some benefits -- a more efficient flow to the rear wing -- but that became rather redundant with the F-duct and we tried to hang onto it and do the F-duct in a different way, which maybe we shouldn't have.
"There were also a couple of things we would have done later on in the year with the floor that we couldn't do because it carried the channels for the F-duct. If we were doing it again for 2011 we'd do it very differently.
"Also, with the blown floor we only got a reasonable understanding later on. I wouldn't say we didn't appreciate the exhaust complexities but we didn't realise the subtleties of how the floor could work. We were also constrained by the gearbox because we weren't adventurous enough with the layout. We toyed with having another go at the transmission case but decided that with the resources we had, we needed to deploy our efforts elsewhere."
The car also had some mechanical failings. "At some tracks with certain combinations of corners it worked quite well," Brawn says, "in Montreal we had the F-duct working well, which helped, it was pretty good on braking and in slow/medium speed stuff it wasn't bad. Generally though, we got too much high-speed understeer and the balance of corner entry and exit was difficult to deal with. We got a reasonable balance most times but just weren't quite quick enough."
Brawn admits that the way Schumacher's season developed was a little perplexing. "The first few races weren't a surprise," he says, "because Nico is very strong and Michael was gradually getting into that gap and at Barcelona was actually quicker. But then he seemed to fall back, which was a surprise. I think Nico responded and did a fabulous job, setting a really good standard for Michael to try and match.
"A lot of people talked about the tyres but you can have one argument that drivers should cope with whatever they've got and Michael, through a whole range of different situations at Ferrari with different engineers and groups, was always very strong. Michael was not as quick as Nico predominantly in slow and medium speed stuff. At Monza, for instance, Nico was able to ride the kerbs with more confidence and so it was a slightly peculiar deficit. It wasn't high-speed stuff where bravery and reactions and car control are the factors. In those areas they were well matched. It was in the technique of low to medium speed. I'm hopeful that with different tyres, cars and a pre-season of reflecting and testing, we'll have two strong drivers."
In a nutshell, Brawn believes that rather than being a car with a clear vision and conceptual plan, the first Mercedes effectively evolved. He's hopeful that a reorganisation of the engineering group and a bolder approach will pay dividends in 2011.