Features - 2010 Grand Prix Review
JANUARY 24, 2011
HRT: Cowboys (not you, Colin!) and Indians...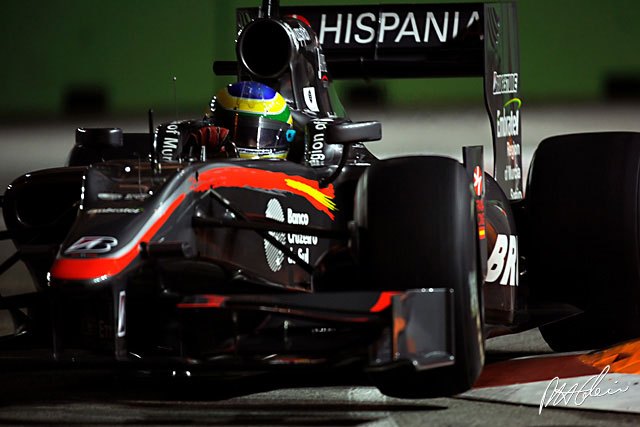 © The Cahier Archive
Hispania Racing Team lent new meaning to the term last minute. The first lap driven in anger by Karun Chandhok was not in practice for the season-opening Bahrain Grand Prix, it was in qualifying!
Hispania Racing Team lent new meaning to the term last minute. The first lap driven in anger by Karun Chandhok was not in practice for the season-opening Bahrain Grand Prix, it was in qualifying!
The team was originally formed by Spanish driver Adrian Campos and was to be known as Campos Meta, fielding a car built by Dallara in Italy. But, with the season fast approaching and the ultimately stillborn USF1 team showing an interest in taking over the Dallara project when funding was late, the team was sold to Spanish businessman Jose Ramon Carabante, who took it on to protect his initial investment and renamed it Hispania Racing F1 Team after his Hispania Group.
With the timeframe critical, Colin Kolles was drafted in as team principal and fixer, with former Williams and Honda technical director Geoff Willis overseeing the technical side.
The Dallara was not cheap, in fact some would say it was fantastically expensive for something way short of required F1 standards.
"It was the first foray into F1 for Dallara since 1992," says Willis, "and, how can I put this diplomatically, they underestimated just how refined and professional F1 teams are. Even the teams at the back of the grid are now at a level of refinement, packaging and quality of design undreamt of 10 years ago. Dallara completely misjudged what was needed. People thought the car would be a super-duper GP2 car, maybe 30% better, but it needed to be 10 times better."
In keeping with the other new teams as well, the team had to contend with the reliability concerns surrounding the Xtrac transmission.
"It wasn't one thing," Willis explains. "The reservoir that maintains constant pressure in the system, for example, is quite a complicated device. F1 hydraulics per se is not excessively complicated, there's quite a lot of experience around, but the teams that have done it successfully year-in and year-out have learned the hard way. It was all the issues to do with surface coating, little failures on connections, dirt getting in, being unable to bleed systems correctly, all of that. For whatever reason, it was underestimated."
Many of the HRT operational team at the track trying to sort it all out met each other for the first time in Bahrain -- Campos Meta mechanics from Spain and Kolles Racing people with DTM, LMP and F3 backgrounds, but precious few with pukka F1 experience. "Well-meaning but fraught," was Willis's description and you had to feel for Chandhok as he attempted to qualify for his first GP in an untried car just off the stands that was 10s off Fernando Alonso's Ferrari Q1 pace.
And nor could you claim that it got an awful lot better thereafter. It did in terms of being able to run the car more reliably but not in terms of car development. There was simply no budget. A change to the hydraulics arrived for Spain and there was an improved wiring loom with more sensors for Germany but that, folks, was about it.
HRT also had big early problems with the fuel system. They were the only team not using ATL cells and they had fuel pick-up problems when the levels dropped. Changing to ATL saved them around 10kgs by being able to run down to virtually empty, which improved the picture somewhat.
But, as ever, downforce is the F1 Holy Grail and Willis estimated that HRT was as much as 150 points down on Red Bull. Added to that, the car had a fundamental understeer characteristic and the team was never able to run it with sufficiently forward weight distribution to match the tyre characteristics because they couldn't balance it aerodynamically.
"We suffered much more at places where you need absolute levels of downforce and efficiency," Willis says. "Singapore hurt us quite a lot and we were 107.2% away in practice. Also, we didn't pick up as much time on low fuel loads on the softer tyres. I suspect we needed the additional energy you put into the tyres on high fuel loads, so we did relatively better in race trim than qualifying.
"On pure performance we knew we were going to be last so we tried to read any complicated situations better. We learned how to deal with blue flags, to minimise lost lap time, so we didn't run our strategy according to optimal timing. That's why you sometimes saw us stop early. We let the first three through very quickly then, as soon as a gaggle came, pitted then. That was a dozen or more blue flags we didn't suffer from. We became aware of how other teams could be doing better!"
Chandhok and Bruno Senna started the year but the Indian didn't drive beyond Silverstone when either the money ran out or the Chandhoks decided there were better ways of spending it. Senna was a last minute absentee at the British GP, meanwhile, as Sakon Yamamoto was drafted in. The Brazilian was back for Hockenheim with Yamamoto and Christian Klien (Singapore, Brazil, Abu Dhabi) sharing the second car for the rest of the year. Such was the car though, it didn't really matter who was in it.
Provided there is a modicum of cash, a Willis-overseen contracted out chassis with a Cosworth/Williams back end ought to be a substantial improvement in 2011. New signing Narain Karthikeyan, who last drove in F1 for Jordan back in 2005, is backed by the Tata group, with the second driver still to be finalised. There's no undue hurry for that - Chandhok only signed on March 4 last year. The big worry has to be the funding but Kolles is a fighter.