Features - 2010 Grand Prix Review
FEBRUARY 6, 2011
Force India: best season yet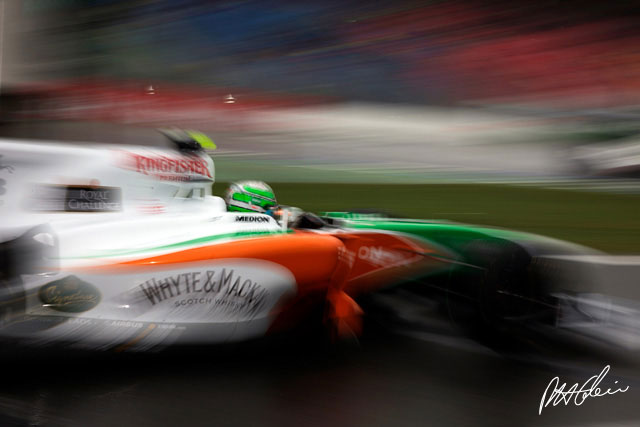 © The Cahier Archive
Force India was happy with its 09-10 winter and progressed during a season that saw several innovations, but technical chief Dominic Harlow admits that resource was needed to optimise all of those.
"The only thing carried over from 2009 was the engine and the fact that we had the same drive line," he explains. "There was a lot of difference because of the fuel regulations and some of the aero changes." The car's wheelbase was necessarily long, driven by the gearbox architecture, which was long and narrow to make the most of the double diffuser, but the team was happier with its weight distribution.
"We stood out on the higher speed tracks in 2009," Harlow recaps. "We made some changes to the way we developed our aero and that flattened our performance across a lot of the circuits. We still had a tendency to perform better at higher efficiency circuits but at lower speed places we weren't really disadvantaged until later in the year when people started to really make their diffusers work. You saw top end levels of downforce significantly higher at tracks like Hungary and Singapore.
"We did quite well with the rear wing but our blown diffuser starting point was not as good. We became aware of the F-duct early, took one to Turkey and opted to blow the main rear wing plane rather than the flap. It made our system quite powerful and even early on we gained quite a lot of top speed from it. We had some problems initially and I think everyone had a race or two of headaches.
"There are pros and cons to blowing the main flap. The obvious pro is getting a bigger stall but it is slightly more difficult to implement. You have a variety of different main plane angles and if something is attached to the engine cover it can be quite painful to make that readily adjustable. Our main issues were in the physical implementation - design, making it all work and not having hundreds and hundreds of parts for different scenarios."
Adrian Sutil was always more comfortable with the F-duct than Tonio Liuzzi, who had difficulty activating it. "We did some work on that but not as much as others," Harlow admits, "Some people changed where they blocked it almost as often as their trousers!"
Despite smaller numbers than many of its rivals, Force India managed seven different floor upgrades and two or three detail changes on top of that. They also had five iterations of front wing.
"We had plenty head room on both personnel and budget," Harlow says. "The Jordan model and history has always been to outsource, the theory being that you get a quick reaction and a better price from the market. Budget is never enough but we set a target, stuck to it pretty rigidly and were still able to bring all that aero development. In terms of numbers we're pretty close to the magic 280 -- but that includes the cleaners!"
The team first ran its blown floor in Hungaroring practice and raced it at Spa. They admit that they started on the bottom of that particular development curve with Red Bull obviously the standard setters.
"There were no tremendous battles rebalancing the car -- how the driver uses the throttle or the set-up -- but maybe that was a measure of what we were getting out of it versus others," Harlow says candidly. "It helps under braking as well, with stability, which is sometimes easier for the driver to pick up than the on-throttle stuff, especially in some of the slower corners or whenever you've got a big stop."
With the additional fuel weight in 2010 Force India also did quite a bit of brake development work in the expectation of issues, but had no problems. "Maybe that was down to the way the drivers drove at the start of the race or how the tyres behaved but it was quite a non-event. Our brake wear in Singapore was pretty much identical to 2009."
Concerning the driving strength, Harlow says: "It was good to have Tonio (Liuzzi) back in a race seat. He certainly impressed with the race driving. In Bahrain and Australia I was expecting it to be a challenge for him to adapt to all that was different but he did it very well. Adrian Sutil carried on his trajectory of improvement over the past few years and is still getting better and probably reaching maturity, with more consistency.
"It was also a good experience running Paul Di Resta in practice sessions. We had to back off a little towards the end of the year because the points situation was tight and you've got to accept that missing a session with one of the race drivers does not come completely free. Paul did quite a good job but it's difficult to really assess because it was one set of tyres and just a snapshot really. If you look at what he did in terms of mileage it's nowhere near what used to be available, but it's better than nothing."
In summary Force India believes that if the team dropped off a little compared to Renault and Williams later on, that's best explained by the relative team sizes and starting points. Overall it was their best season and they head into 2011 optimistic.