Drivers
Robert Kubica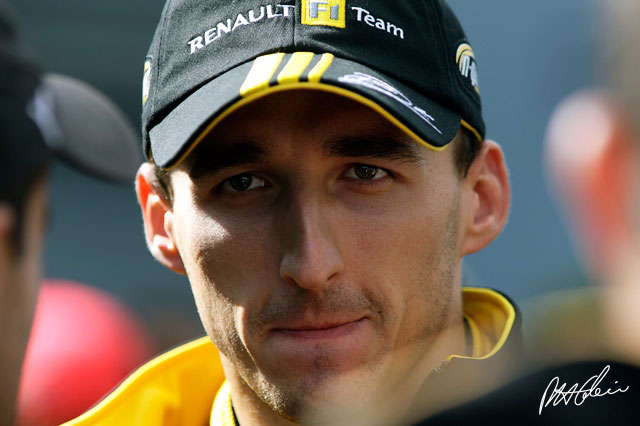 Kubica was mad about speed when he was just a toddler and at four talked his father into buying him a tiny off-road vehicle. He then moved on to karts at seven but could not get a licence to race until he was 10 and so had to make do with running around in car parks. He then did three years of racing in Poland before his father decided to take him international. After three races they ran out of money but the CRG kart company recognised his talent and took him on to test and race. That year he became the first foreign driver to win the Italian national kart championship and was second in the European series and he remained a top level kart racer until switching to cars in 2001. He was signed up as a member of the Renault Development Driver programme and in 2002 finished runner-up in the Italian Formula Renault series and seventh in the European series. He was due to move up to the Formula 3 Euroseries in 2003 but was a passenger in a serious road accident and suffered serious arm injuries which meant that he had 18 titanium bolts in his arm. Despite this he entered the Euroseries with Prema Powerteam and won his first race and was 12th at the end of the year, despite his late start. In 2004 he moved to ASL Mucke Motorsport but it was a poor year and was dropped by Renault. He decided to race in the Renault World Series in 2005 with the Epsilon Euskadi team and dominated the championship and so earned an F1 test drive with Renault and did so well in that test that three weeks later he was signed by the BMW Sauber F1 Team to be its test driver in 2006. His impressive showings in Friday testing at races and in private tests led BMW to decide to drop Jacques Villeneuve before the Hungarian Grand Prix. Kubica set tongues wagging when he qualified ninth and raced to seventh before his car was excluded for being fractionally underweight - a disappointment for the ambitious Pole. At Monza - his third race - he led the Grand Prix and finished third. This impressive work led to him being retained by the team in 2007.

2007 was the year that Kubica had his horrific accident in Montreal. It started when Kubica's BMW Sauber clipped Jarno Trulli's Toyota, and that sent the BMW straight into a wall after which the car ricocheted back on the track in a series of frightening tumbling flips before coming to rest on its side. Briefly unconscious, Kubica was taken first to the track medical center and then a hospital in Montreal. He was kept overnight for observation and was released the next morning with nothing more than a sprained ankle. Doctors made Kubica sit out the next race, in Indianapolis, and that gave Sebastian Vettel the opportunity to make his F1 debut.

Kubica finished sixth in the championship thanks to 11 points finishes including a third in Bahrain. But he had difficulty in adapting to the new Bridgestone tires. His teammate Nick Heidfeld coped well with the tires and outperformed the Pole.

One year after his accident Kubica won his first grand prix as he drove to victory in Canada after Lewis Hamilton knocked Kimi Raikkonen out of the race in the pit lane. That left Kubica perfectly poised to snatch a fortuitous but poignant and well deserved win. Kubica's teammate Heidfeld could have won as well but came out on the wrong end of BMW's pit strategy.

In contrast to 2007, Kubica managed to get far more out of the tires than Heidfeld. Kubica had a strong season, with three second places, three thirds, and by scoring points in all but four races. With two races to go he was still in contention for the championship. But BMW had already achieved its programmed goal, which was to win a race and finish third in the constructors' championship. So, much to Kubica's chagrin, the team started focusing on 2009 instead of pouring its resources into trying to win the 2008 drivers' championship.

In retrospect Kubica was correct because BMW took a massive step backwards in 2009 when it finished a distant sixth in the constructors' championship. After placing fourth in 2008, Kubica tumbled to 14th in 2009. He only had five points races, with the highlight being an impressive second in Brazil. Kubica drove the BMW F1.09 far beyond its limits and made few mistakes, and many F1 observers rated him as one of the top five drivers of the season.

With BMW making its surprise withdrawal from F1, and all the seats with the top teams filled for 2010, Kubica ended up at Renault. Once again he performed over the car's limits. He finished second in Australia, and third in Monaco and Belgium. He probably would have finished on the podium in Japan as well if a rear wheel had not fallen off his Renault. He took points in 15 of 19 starts and placed eighth in the championships and just two points behind Nico Rosberg's Mercedes. Kubica enjoyed the atmosphere at Renault where the team was more prepared to listen to his ideas than BMW had been. Still, it took Kubica a while to convince the Renault engineers that Fernando Alonso had led them down the wrong chassis development path during his final races with the team in 2009.