Columns - The Youth of Today
Monte Carlo or bust for the WRC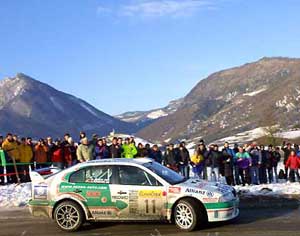 BY NICK GARTON
I feel a special cheer following the result of the Monte Carlo Rally. The fact that Tommi Makinen tore up the form book to win in his museum piece of a Mitsubishi is neither here nor there, to be honest. Neither that Colin McRae carried the flag for Britain with aplomb. No, it was dear old Skoda taking on all comers to finish fourth on one of the world's most famous events.
Skoda is the kind of company for which rallying was made; as are Subaru, Hyundai and Mitsubishi for that matter, for rallying is not a glamorous sport, but to its very essence it is a worthy one.
As such it's an ideal place for smaller manufacturers to have a world championship and, conversely, one in which Ford and Peugeot have no business throwing their vast resources. But so long as they do, then a Skoda or a Hyundai scoring hard-earned points makes a great story, and one that brought to mind the best weekend of motor sport I've ever had: the 1996 RAC Rally.
The RAC wasn't on the world championship bill in 1996. Nevertheless a large number of the turbocharged four-wheel-driven monsters appeared, including a fleet of works Toyotas. I, meanwhile, was a part of the Skoda brigade: a fleet of little 1.6-liter Felicia hatchbacks.
The Skoda Motorsport team then, as now, was on the small side: a happy little band of men who spoke almost no English and were all seemingly called Pavel. So small and happy was this band that the retired head of motor sport came along to drive the team's motorhome. At its best, rallying is like that.
Stig Blomqvist was our lead driver. The 1984 world champion's greatest success had come with Audi's awesome Quattro, but he had cut his teeth in harrying underpowered little front-wheel-drive cars through the snow, and was looking forward to the three day trek round Scotland, England and Wales with rejuvenated relish.
From day one Stig used his thirty years' experience and the non-stop blizzard that followed the event round to get amongst the front-runners. Despite the overwhelming number of Subarus, Escort Cosworths and the works Toyotas he got as high as thirdÉ and stayed there.
We who were following had to drive the same marathon, thundering round country lanes to get to the next service halt in time to meet Stig having lost an hour waiting for the last man in the five-car team. In a word it was unforgettable, although as a second I'd add madness.
I well remember driving towards Aberystwith at about four in the morning when the moon was so bright and the snow virginal that you could see better with the headlights switched off. That was after being wrongly directed at the overnight stop in Leeds so that I was funneled onto the ramp to take the applause that was meant for the leader - it was all part of the fun.
I've never really been a subscriber to the rallying snobbery that says you don't know a thing about the sport unless you've done an event that lasted two weeks and offered just four hours rest throughout. Or that you've only earned your spurs if you've repaired an Escort Mexico in the back of beyond in sub-zero temperatures using nothing but your underpants. As world rallies evolve into compact, TV-friendly events however I'm glad I that had the chance to experience something of the sport's past.
Five years on and Skoda has done it again - and in Monte Carlo of all places. Like its Grand Prix counterpart, the Monte remains the last bastion of another age where it was possible for a Mini Cooper to outfox the big boys (albeit having left the start line in MinskÉ heady days!)
Skoda's modern Octavia is no Mini; it's up there with the big guns as a pukka World Rally Car, but it's one with a total development budget that the Ford Focus or Peugeot 206 enjoy in a single season. Perhaps when Dave Richards has realized his dream of making the WRC a high-visibility sport such stories of derring-do will be able to reach a wider audience.
As it was I was one of the millions of non-subscribers unable to tune in to Eurosport and catch each day's events on TV. The newspapers here, too, could only justify their scanty coverage by telling how Colin McRae just failed to be the first Brit to win the Monte in 33 years. ÔI want to win this for me,' said the Scot with an exasperation that almost burned a hole in my Sunday Times. ÔNot the history books.'
Like Le Mans, the Monte Carlo Rally deserves a bit of attention for its own sake, for there are many more stories like that of Skoda to be found throughout the entry list. This year, unlike many, there was no Mini Cooper but in 2002 I wouldn't bet against BMW putting in one of its new creations for some positive PR. It's very much a people's sport and from that the WRC could maybe one day challenge Formula 1 on the world stage.