Columns - The Youth of Today
Let's have a traditional Christmas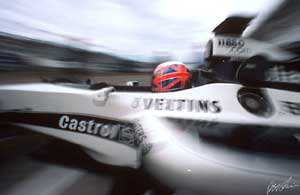 BY NICK GARTON
Christmas is almost upon us and children everywhere are hoping against hope that their letters to Santa will have been answered, as what they've found in their parents' wardrobe just doesn't fit the bill. Some will be wanting a bicycle, many will have been hoping for a PlayStation 2 and others are holding out forÉ a Formula 1 contract.
The great Grand Prix drivers arrive, on average, once per decade. Boillot, Nuvolari, Rosemeyer, Moss, Clark, Villeneuve, Senna and arguably Schumacher are the men who defined every epoch, immediately demonstrating talent and ability of a level most of their peers would never comprehendÉ then getting better.
Now, though, they're allegedly turning up at a rate of about three per week. Among the Raikkonens and Pizzonias on the front row of this nonsense is Giorgio Pantano. I recently asked someone in his camp what made their boy so special, and you'll never believe the reply. Of any bewildering talent to prescribe a guaranteed race-winning set-up we also know nothing and apparently the strongest case being put to Formula 1 team bosses at this moment is that "he's got Senna's nose".
This, though, is copper-bottomed stuff compared with new BAR test driver, Anthony Davidson. Affectionately known as ÔPrawn' by his rivals in Formula Ford Zetec (kids are so cruel, aren't they?), this is a signing from outer space. Having spent a season testing Formula Fords, Davidson joined the works Mygale team for 2000 - champions in 1998 with (whisper it), Jenson Button and in '99 with Nicolas Kiesa - and then got beaten to the runner-up spot by a privateer car!
When was third place in Formula Ford made a passport to F1? Did I miss a meeting? Apparently so, because in this midwinter craziness I now hear people saying that, as it took James Courtney two years to win Formula Ford, he should be written off. "Jenson did it in one year," quoth the born-again sages of Formula 1, oblivious that he got in at least a full season's worth of mileage each winter through relentless testing. He's very, very special - but he ain't superman.
Of course young drivers are cheap to run, they're sponsor-pleasingly pretty and they have less of an attitude than an established F1 man. Unfortunately they also come with managers, all of whom look at Willi Weber, Mr. 20% for the Schumacher brothers, and they see a world championship for earnings that they want to win. They'll do anything to get a sniff of Formula 1 regardless of ability, experience or temperament.
Now any young racing driver has to believe that potentially he's better than Michael Schumacher, or else he shouldn't get out of bed in the morning. The average hotshoe, though, will not say they want to plunge straight into F1. They'll tell you instead how they want to stretch themselves next season, learn a few more things to help them realize that potential they have when - and never if - they make it to their first Grand Prix.
That's the healthy attitude, and it's why the average hotshoe is such a joy to be around. They are also unfailingly impressionable, however. If somebody says that they'll represent them they feel jolly important and tell all their friends. Meanwhile their benefactor is doing all he can to cut corners, making the right noises to impressionable F1 folk to get their boy into Formula 1 pronto so that they, like Willi Weber, can have a bank balance like Elton John's and a wardrobe to match.
I'll give you a for instance. Not so long ago there was a very highly rated youngster who came to the attention of a longtime charlatan. He immediately wiped away the inadequate funding and presented the lad to a few major institutions. With a wealth of handshakes, promises of firm commitment and the boy's clear talent he then secured the best drive going and sat back, waiting for the money to roll inÉ only it didn't. Just before the first race the finance fell apart, the team got annoyed and that particular talent vanished without trace.
Shady management stories are ten a penny in motor sport, as they are in the pop music business. Both industries also share the rumbling discontent of seasoned performers at in their prime who are more than a little miffed by the influx of ingenues being piled high and sold cheap.
Would Jimi Hendrix make it today without the ability to lip-synch and dance with a dayglo smile firmly in place? The odds are somewhat against it, but then again they were also allowed to make mistakes whereas today it's one strike and you're out. One can only hope motor racing doesn't completely follow suit, for even Nuvolari had many an off-day.
How fitting, then, that in one of the more popular men's fashion and aspiration-peddling magazines there recently appeared a feature where famous men espoused the virtues of famous women. One such piece was penned by no less a body than that man Jenson Button, towards whose fashion and lifestyle many men aspire, and whose babe du jour would be none other than the chubby wristed singer Britney Spears.
The fact that Jenson described his ideal dinner party as himself, Britney and a couple of ugly blokes speaks volumes for his wit, resourcefulness and maturity. It confirms him, in a small way, as the man most likely add his name to that illustrious list of epoch-making naturals. But if that's so, then what of the rest of our hopefuls? The simple answer is that when everyone's out testing and Santa's gone home without leaving a contract in their stockings, nobody knows.
So to end this Yuletide note I raise a glass to the BRDC for re-investing some of Octagon's millions in young British drivers - and to all the bona fide institutions seeking to nurture the drivers of tomorrow. Next year Inside F1 will be among you, presenting (not representing, mark you) the brightest American prospect of 2001. In the festive words of A Christmas Carol: ÔGod bless us, every one.'