Columns -
F1 Love Inn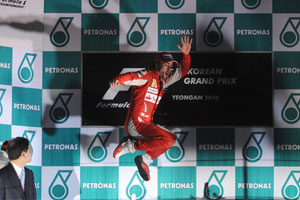 BY MAURICE HAMILTON
A worrying trend has been set by South Korea offering Love Hotels as accommodation for F1 people. The British Racing Drivers' Club has issued the following advisory note to owners of hostelries within a 50-mile radius of Silverstone:

Dear Sir, Madam or Mistress of the House,

In view of the forthcoming British Grand Prix, we have been made aware of new requirements, if not standards, for F1 people. To that end, we would ask you to adjust your establishment in line with a Love Hotel theme for the emotionally charged.

Having no experience of such enterprises and not wishing to offend our guests, we have played safe by using the Sporting Code as an indication of what might be expected.

Since a return to your Love Hotel could be classified as a moment of relaxation during a busy weekend, we have sought guidance from the only appropriate paragraph in the code covering race day - the Podium Procedure.

It would seem that the room should be carpeted in either green or blue. This is a reasonable request and will give some of you the opportunity to remove tacky floor coverings stained over decades by inebriated Nigel Mansell fans.

Another interesting clause requests a suitable sound system which should broadcast events to the public. This will be made available by the BBC after 9pm on the appropriately named Red Button, with expert analysis by Eddie Irvine and John Button.

Apparently, the national flag of whoever has scored in a big way must be raised, although we will dispense with the national anthem for fear other clients might hear this and feel the need to rise for the occasion - in the sense, we should quickly add, of getting to their feet.

It also appears that as many as three dignitaries may be present - one assumes merely as observers although Bill Clinton and Tiger Woods, should they be in town, may wish to join in.

We should point out that these are Love Hotels and not brothels, thus avoiding the need for external red lights. This is sensible because drivers tend to become highly charged when they see red lights. There could, for instance, be unpleasant scuffles in the hallway should more than one driver arrive at the front door at once and the red lights are suddenly extinguished.

We are also instructed to say that you are allowed to help a driver should he find himself in what is referred to as a 'dangerous position'. This, supposedly, will be indicated by the driver 'either raising an arm or opening his door', a tricky enough requirement depending on the aforementioned position.

Similarly, if a driver cannot get going, the rule book quite clearly says 'an external starting device may be allowed'. We feel no further explanation is called for here and leave this in your capable hands.

Should this fail, a discreet exit must be provided for the client. This is known in the trade as a Run Off area.

Understandably, the Sporting Code makes no mention of condoms. Ignoring the inevitable smutty remarks relating to 'weighing of helmets', the closest reference falls under 'Protection'. This states that, apart from flameproof underwear, 'it is mandatory to wear two shoulder straps, one abdominal strap and two straps between the legs'. All of which appears to make the use of condoms an irrelevance, not to say impossible.

Should condoms be required, however, we think it right to request that they be manufactured by Bridgestone. Under the circumstances, it will be less embarrassing for all concerned if you avoid reference to Bridgestone's standard terminology, ranging from Supersoft to Hard.

At the end of the weekend, a grid will be drawn up with the person taking the longest time winning Pole Position. In any case, a two-hour time limit will be imposed. Should more than one person reach the two-hour mark, the winner will be the person who has, in a manner of speaking, goe the furthest. Bad Light will be considered a requirement and not an excuse.

Finally, should any member of the F1 fraternity wish to move on to London, advise them that interesting addresses may be obtained from 'The Welt and Weal', Whips Bottom, Chelsea. Ask for a Mr. Mosley. Preferably in German.

We remain

Your obedient servants

The BRDC.
<script src="http://connect.facebook.net/en_US/all.js#xfbml=1"></script><fb:like href="http://www.grandprix.com/columns/maurice-hamilton/f1-love-inn.html" layout="box_count"></fb:like>