Columns -
Bursting The Bubble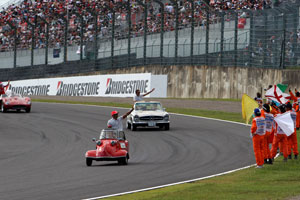 BY MAURICE HAMILTON
F1 personalities were asked for their opinion on Lewis Hamilton being given a Messerschmitt bubble car for the drivers' parade at Suzuka.

Bernie Ecclestone: Super. Absolutely super. We're trying hard to make this work. We asked them to provide a car at no cost to me and they have. Super. Absolutely Super. Where's your pass, by the way? Who let you in?

Martin Whitmarsh: As you know, the reality is that we, as a team, came here, and I'm not casting aspersions on Red Bull or any of our esteemed rivals, but we came here to do the best job we can and I have to say we, as a team, are not particularly happy about the situation that has arisen. But if the FIA say this is within the rules then the reality is that we, as a team, will accept it and focus on the racing, which is what, in reality, we're here to do. As a team.

FIA Steward: We're presently examining Sporting Code, Article 96F, paragraph 145, sub-section 295b, amended this morning, which says this is okay even though paragraph 146 refers you to the Technical Regulations, Article 16: 'Wheels and Other Round Bits'. This states that any vehicle or machine or part thereof measuring two-thirds the weight of Mr. Ecclestone's wallet (minus 95 per cent for him, plus a bit on the side for the teams) should, beneath the reference plane shaded grey and drawn in pencil so that it can be easily rubbed out, must have a minimum of four wheels. We have examined this vehicle and it appears to fall short by one. Since this is difficult to resolve, we have fined the Messerschmitt owner $100 million (less the aforementioned 95 per cent for Mr. Ecclestone) and passed the matter to the World Motor Sport Council, which will meet after a long lunch sometime next year.

Renault spokesperson: We're impressed. That car appeared to lap Suzuka on three wheels with no trouble at all, and this is now something that interests us.

Christian Horner: Just because our mechanics like to stand around the back of our car having a fag-break on the grid, some teams - and I won't mention any names for fear of being sued by the manufacturer of baby buggies - claim we're hiding something. And here you have Lewis, sitting on the rear bodywork, clearly covering the air intake to the wick in the paraffin burner in that car and providing what I can only describe as a form of anal forced induction and saying he has, out of politeness, to call it an F-duct. It's all hot air, if you ask me.

Union spokesperson for Three Wheel Automotive Trade (TWAT): This is a blatant disregard for the dignity of our members who do not build these fine automobiles only to have the boyfriend of some fancy pop star come and put his feet on the back seat as if he's the champion of the bloody world, or something.

Ross Brawn: I have to admit it's given us a few ideas. A wide front end, which Michael wants, and there's room inside that long body for my fishing rods. Well, I may as well have a day on the river.

Ferrari spokesperson: We 'ave no comment to make, except to say to Lewis: 'Fernando. Is. Faster. Than. You.' Please confirm that he understands this message.

Eddie Jordan: That's a good question and, as you know, I think I speak of everyone in Ireland and throughout the whole country of Ireland and its disaprin and culture thing when I say this sort of occurrence and others like it which keep happening and did happen, I might add, when I ran my own team, which was not so long ago, well, I say that, but not long enough ago to stop me coming on television here in Singapore ...Suzuka!...sorry, DC's confusing me with his tight white jeans..but as I was saying before I interrupted myself, I can come on the television and elastidate with big words and so on and it's totally, totally, in my view, outrageous what they've done here today, wherever we are and...what was the question?
<script src="http://connect.facebook.net/en_US/all.js#xfbml=1"></script><fb:like href="http://www.grandprix.com/columns/maurice-hamilton/bursting-the-bubble.html" layout="box_count"></fb:like>