Columns - Big Al
Why we can't take the brakes off F1 cars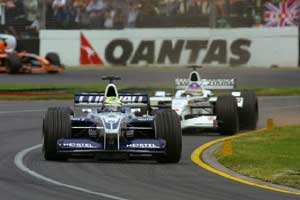 BY ALAN HENRY
When Keke Rosberg surged to pole position for the 1985 British Grand Prix at Silverstone, he lapped the former RAF aerodrome track at a stunning average of 160mph. Forget the fact that he'd just stubbed out a stogie before hopping into the cockpit of his 1000bhp Williams-Honda FW10 turbo, or that he was suffering from a minor setback in the form of a slow puncture in one of his rear tires. He just got out there. And got stuck in. Job done.
The following year, I recall Gerhard Berger recalling how his Benetton-BMW turbo, kicking out around the same sort of power, was getting wheelspin in sixth gear over the hump into Massenet, the off-cambered left-hander which leads into Casino Square at Monaco. Give or take a small percentage between friends, he was approaching 190mph at the time.
Such statistics would be more than sufficient to give a fit of the vapors to F1's rule makers in the first year of the new millennium. In fact, it takes a brief trip like this down memory lane to make the point as to how things changed. You might also recall, rather poignantly, that in 1986 that charismatic Italian Elio de Angelis died while testing one of Bernie Ecclestone's Brabham-BMWs at Paul Ricard. Just a month later, Osella driver Ricardo Paletti was killed in a startline collision at Montreal. These were the last occasions on which the deaths of F1 competitors were treated in matter-of-fact style as victims of what might be described as "legitimate risk."
Another eight years would pass before Ayrton Senna and Roland Ratzenberger were killed at Imola and F1 was suddenly caught in the full glare of the adverse publicity spotlight. This was Grand Prix racing's equivalent of the "Busby Babes" being killed in the Munich air disaster of 1958. And the effects of Senna's death have reverberated through the sport ever since.
FIA President Max Mosley acted swiftly to curtail F1 car performance with a tranche of measures designed to reduce aerodynamic downforce, following that up with an engine capacity reduction for 1995. Circuit safety facilities were upgraded, car constructional standards dramatically stepped up. Everything, it seemed, was done to make the racing safer. And so it has proved. But the human element behind the wheel remains as vulnerable to making mistakes as ever.
Human error was the reason behind Jacques Villeneuve slamming into the back of Ralf Schumacher at Melbourne this year. That's ultimately just one of those things. You can't legislate against human frailty and a minuscule error of judgement. Yet it is ironic that these fleeting human shortcomings triggered a vigorous debate on two separate and unrelated fronts; firstly, the cause of the accident which was the speed differential between the two cars; secondly, the question of just how the tire war between Bridgestone and Michelin has dramatically - some would say dangerously - accelerated lap speeds.
In his absolute heart-of-heart, I suspect that Max Mosley is an old fashioned racer, knowing full well that a driver climbing into an 800 horsepower single seater is taking a very precise, albeit calculated, risk. Yet equally, adroit politician that he is, FIA President has also calculated that we probably cannot continue having any sort of accidents against the backdrop of spectacularly escalating F1 lap speeds.
He may be wrong, of course. Perhaps we should really let F1 car performance rip and just accept that accidents are all part of the equation. But that may be OK in theory. Whether we like it or not, F1 is no longer a sport which can plough its own lonely furrow, oblivious to what the rest of the world is thinking. Global media scrutiny and high profile sponsorship brings with it obligations which may grate with traditionalists, but the motor racing community just has to live with it.