Columns - Big Al
Three into one won't go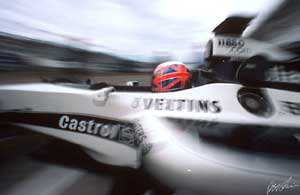 BY ALAN HENRY
The way I see it, if Ralf Schumacher doesn't regain more of the consistency which made him such a formidable F1 during the 1999 season, then he could be out of the BMW Williams squad when his current contract comes to an end in two years time.
A Williams insider told me last week that the team reckoned Schumacher junior was "out to lunch" in the last two races of this current season and that Jenson Button had given him a most uncomfortable wake-up call. Button is already talking about returning to Williams in 2003, so with Juan Montoya lining up alongside Ralf next season, I reckon our German friend should be more than a little concerned.
One thing I know for sure is that Gerhard Berger, BMW's new F1 manager, is extremely impressed with Jenson, having watched him in track action for the first time at Jerez last winter.
"What you've got to remember is that I knew Jerez extremely well, having driven my last Grand Prix there in 1997," said Gerhard, "so I knew instantly what I was looking for when I went up to the top of the control tower and watched Jenson lapping the circuit.
"You know, it was quite incredible. He'd not driven an F1 car before, but he was instantly on the line, never ran wide, and the only indication that he was pushing hard came from the occasional locked brake as he probed the limit.
"For me, this was just incredible. And he has followed that up throughout the year. I can't think of a new driver in F1 who has made so few mistakes in his first season."
Yet it is not Button's sheer ability behind the wheel which has impressed most of us on the touchlines, for he has had a few indifferent races. Even the enormously impressive manner in which he mastered Hockenheim in the wet, Spa and Suzuka take second place in my mind to his remarkable maturity and even temperament. These are qualities which will turn out to be unimaginable advantages to him as his career unfolds over the next few years, helping him to take a philosophical and resilient view of the ups and downs which he will inevitably experience.
He may well come back to Williams in 2003, but for the moment his immediate challenge is confronting Giancarlo Fisichella head-on. I am pretty confident his assured and consistent manner will quickly undermine the moody and inconsistent Italian driver. The only thing which remains to be seen is just how much of Renault's financial firepower Benetton boss Flavio Briatore can eventually muster in an effort to prevent Button from returning to Williams in due course.
In other words, how much Frank will sell him for. I suspect when it comes to it, Williams won't be able to put a price on the young British driver. A couple of weeks back Patrick Head described Jenson as "almost perfect." And compliments like that in F1 come about as frequently as a total eclipse of the sun.