Columns - Big Al
The man I admire the most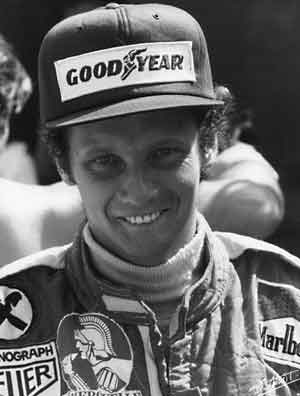 BY ALAN HENRY
It's now about three weeks short of 30 years since I first bumped into Niki Lauda. The buck-toothed 22-year old Austrian was in the paddock at Mallory Park, the tight little circuit near Leicester, where he was just about to have his first Formula 2 race in a March 712 he'd leased for the season for the princely sum of 8500 pounds.
Niki came from a wealthy background, but his family wasn't interested in supporting his motor racing. His grandfather was a banker from Vienna and told the youthful Niki "Laudas appear on the business pages of the newspapers, not the sports pages."
More to the point, that same grandfather - "Old Lauda" as Niki regularly referred to him - attempted to thwart his grandson's sponsorship deal with an Austrian bank. I don't think that Niki ever forgave him.
This marked the start of a quite remarkable career as one of the most heroic post-war sportsmen in any discipline. Three World Championships, a life-threatening, fiery accident which left him cruelly burnt, an international airline and - last week - a senior management role in the Jaguar F1 team.
I must say, I had my initial reservations about the whole business. After all, his last "consultancy" at Ferrari brought about only limited success. It was a standing joke that if Niki appeared in the pit lane at the South African GP, then Lauda-air must surely be planning a new route to Johannesburg.
Yet after talking to Niki at length last week, I was impressed by the steel and resilience in his voice as we discussed his new challenge with Jaguar. He is a tough and clever man, but I detected an undertone of resentment over the manner in which his position had been undermined by Austrian Airlines and, as a result, he was ousted from the board of Lauda-air in the process.
Niki is determined to prove that he is no dilettante - and that his success in making Lauda-air such a first rate airline can rub off on the Leaping Cat.
For many years Lauda was only an occasional visitor to the grand prix scene. His position as informal advisor to the Ferrari F1 team in the early 1990s had gradually become superfluous.
In any case, running his international airline, Lauda-air, kept him more than busy. I remember travelling in the cockpit of its first Boeing 777 and watched Niki handling it with the same kid gloves as he used when he was behind the wheel.
Niki used to reflect that the money he earned in his racing days now seems pretty average for today's F1 stars.
"When Ron Dennis tempted me out of retirement in 1982, Marlboro, the McLaren sponsor, was nervous that I might not be quick enough," he recalls with a grin. "I said, Okay, pay me 3 million dollars for my publicity value. I had a rolling contract which was reviewed every three races. If I didn't perform, they could get rid of me.
"But I won the third race of 1982, in Long Beach. So I told them for 1984, right, now you pay me for driving as well. I earned 4 million dollars in both 1983 and 84, winning the world championship for the third time. Then Ron told me he would only offer me 3 million dollars for 1985 because Keke Rosberg would drive for that.
"That deal didn't come off, so I eventually drove for 3.8 million dollars as reigning world champion. But by 1985, all I was interested in was staying alive and collecting my money!"
By the end of his F1 career in 1985, he was seriously at odds with McLaren boss Ron Dennis on a personal basis. Ten years later things were different, and they got on well.
"My situation(italics) has changed," he said. "He was very then very egocentric, hard and tough, doing things the way he wanted. But he would get more out of people these days if you are more flexible.
"I have the same problem today at Lauda-air. I employ 1400 people. They drive me crazy. But I can't run 20 airplanes on my own. I have to find a way to motivate people. Fighting them makes no sense at all. Ron did the same things as me in these days.
"But the qualities of Ron and McLaren remain unchanged. They live in another world of detail work, standards and perfectionism which is unbeatable. When McLaren finally get a fully competitive car, they will win every race. Because Ron is built like this, he can work out fine details to the bitter end.
"As with my airline, it is the little nitty gritty details which make the difference in F1."
Niki Lauda is no stranger to pain and suffering. In the 1976 German grand prix the reigning world champion's Ferrari crashed in flames and he sustained potentially fatal scorched lungs. Despite being given the Last Rites, he fought back to race again and won two more world championships.
In 1997 he successfully underwent a kidney transplant with an organ donated by his younger brother Florian. But neither of these episodes came close to the trauma he experienced with the loss of a Lauda-air Boeing 767 over Thailand in 1992.
"If I decide I want to race, drive into a guard rail and kill myself, that is my own decision," he said. "But if you buy a ticket on my airline and you don't come back, it is totally different. Your life is different. So if 223 people get killed in your own airplane, it is a situation which I would not wish on anybody.
"Thank God the crash was basically down to the airplane itself and not to us. If Lauda-air had been shown to be responsible for it, I would probably have quit. It was the most profound experience of my life."
One tough man. But, despite all your might hear, a sensitive one too. It is easy to understand why I admire him so much.