Columns - Big Al
Study the history books before you criticize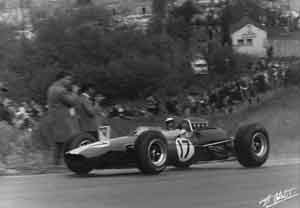 BY ALAN HENRY
If I had a dollar for everybody who's moaned to me over the last few days about just how boring the British Grand Prix turned out to be, I wouldn't be sitting here writing this column.
The critics of today's tactical, strategic Grand Prix racing don their soft-focus tints to suggest that things ain't what they used to be and let's look back to the Good Old Days when there was lots of overtaking. For example, let me take you back to the Good Old Days in the form of the 1951 British Grand Prix at Silverstone, the 50th anniversary of which we celebrated last weekend.
Froilan Gonzalez in the winning Ferrari 375 took victory 51sec ahead of Juan Manuel Fangio's Alfa Romeo 158. Luigi Villoresi's Ferrari was third, two laps down. Or, to put it another way, the same distance which Jenson Button's 15th place Benetton was behind Mika Hakkinen's winning McLaren last Sunday. Better racing?
At Spa-Francorchamps in 1963, a circuit which was 8.749 miles long in those days let's not forget, Jim Clark's Lotus 25 lapped the entire field in conditions of torrential rain. Only in the closing stages did he ease up and let Bruce McLaren's Cooper and Dan Gurney's Brabham unlap themselves in second and third places. Better racing?
And just as a footnote, Clark did pretty much the same two years later when only Jackie Stewart's BRM was on the same 8.749 mile lap at the finish. Better racing?
From personal experience, I can recall some positively dismal races from my early period as an F1 journalist. Silverstone '71, Dijon-Prenois '74 and Hockenheim '77 certainly spring to mind. However, races like Silverstone '73, when Peter Revson won for McLaren, and Zandvoort '75 when James Hunt's Hesketh beat Lauda's Ferrari, will always stick in the mind.
In fact, the best era of the lot was that of the 1.5-liter turbos between 1982 and 88 when a huge diversity of chassis and engine design - not to mention awesome power outputs - produced some of the most fascinating and unpredictable F1 racing ever seen.
What hasn't changed is the sense of occasion and anticipation engendered by a World Championship Grand Prix. The FIA may have made a huge blunder readmitting electronic control systems and I suspect the jury is still out on the attraction of the "chess game" scenario which Max Mosley firmly believes is the key attraction in F1 today, but to say that the racing is awful today and was terrific in the olden times is neither fair nor accurate.
What was better in the "Old Days" was that cars could run in closer company as, up to the early 1990s, they'd not been totally smothered by aerodynamic efficiency. Drivers also had to change gear accurately and precisely, rather than simply pressing a button.
John Barnard's semi-auto shift on the 1989 Ferrari 640 may have opened a fascinating avenue of technical development, but it certainly made the drivers' lives a lot easier. In fact, the abandonment of manual gearchanges in my view was the most damaging development of the past ten years.
Pity the FIA didn't move in to bat on that particular wicket. At least they could have policed it with no problems at all.