Columns - Big Al
Set your aims high, don't worry about the debts and keep smiling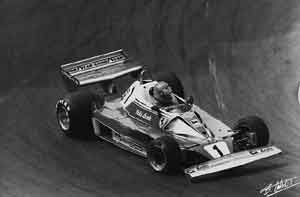 BY ALAN HENRY
Niki Lauda knows better than most that making the F1 front line depends not only on talent, but being able to judge the right place to be at the right time as you climb the ladder towards the sport's most senior category. For that reason alone, Lauda is impressed with Jenson Button whom he believes could take over the role as the next superstar from Michael Schumacher in F1 racing's next generation.
The 51-year-old Austrian delivered his verdict at the recent DTM finale at Hockenheim where he was on hand to drive members of the Olympic gold medal winning German equestrian team in the McLaren-Mercedes MP4/98T two-seater.
"Button has been quite the most impressive driver of the year," said Lauda. "I was alerted to his early promise by Gerhard Berger and the way in which he set fastest time during Friday free practice for the European GP at the Nurburgring really got my attention.
"It's certainly possible that he could become F1's next big star. It's always difficult to judge these things, but I'd say Frank Williams has taken a big risk taking on Montoya. I will be very impressed if he is better than Button."
Lauda, of course, knows just how capricious and unpredictable the motor racing business can be. At Albi in 1971, where he was racing F2 for March and I was an impecunious journalist, I well remember him telling me that he'd signed a contract to deliver £30,000 to March Engineering's bank account within ten days in order to fund his following year's transition into F1.
The sponsor, he now told me, had fallen through. What should he do now, he wondered? Not altogether unseriously, I told him he should find a gun and shoot himself. I added, in a remark which clearly demonstrated my inability to contemplate either inflation or the fact that people might improve their commercial position in life; "If you live to be 100, you will never, ever pay off a debt of 30,000 pounds."
All of which may go some way to explaining precisely why he is a multi-millionaire and I still seem to be hanging on every word he says.
Later, I have to confess, Niki demonstrated his intense commercial acumen by signing up a pay driver for the BRM team in 1973 - and arranging things so that his payments, derived from touring car racing prize money from BMW plus a few loans and personal sponsorship deals - were made in arrears.
This, of course, meant that he would have enjoyed his season's racing in F1 before the final payment was due to be made. Needless to say, Niki hadn't the faintest idea where that money was coming from, but by the time it was due he'd already signed a deal to drive for Ferrari in 1974. So he was hardly bothered.
Fast forward 27 years to the Hockenheim outing ten days ago which was only the second time that Lauda had driven the McLaren two-seater, the previous occasion being at Barcelona in 1998 when he drove his sons Lukas and Mathias round the Spanish GP venue.
He also confirmed that his airline Lauda-air was out of financial danger. "We have put a package together which satisfied one of our minority shareholders, Austrian Airlines," he said.
After all, he was only 43.6 million pounds in the hole. I felt tempted to tell him if he lived to be 100 he wouldn't be able to pay that sort of money back, but bit my tongue at the last moment. At Niki's stratospheric level, I suppose one's wealth is judged by one's credit line.
In the words of the old proverb; if you owe 10,000 dollars, you are a customer of the bank. If you owe 100 million dollars, the bank is a customer of yours.