Columns - Big Al
Hands off the steering wheel, chaps; the computer's driving!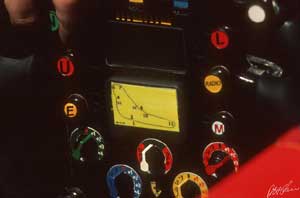 BY ALAN HENRY
Imagine the scene. There is an incident in a Grand Prix which would, in today's terms, would have required the deployment of the safety car to check the field. Instead, at a pre-agreed signal, the entire field suddenly is suddenly slowed by an unseen hand to a maximum of 80mph. Welcome to the world of adaptive speed control, the "electronic chauffeur" activated automatically with the safe control of motorway traffic flows as its original objective.
Anathema to the out-and-out driving enthusiast, perhaps, but a development which may be forced upon us in the future by the need to cut road deaths. And one of many measures which motor racing's governing body is currently toying with as a means of harnessing the impending resurgence of F1 electronic technology to construct a tangible bridge between top line motorsport and road car safety.
FIA president Max Mosley attended a conference on the European Union's European road transport safety policies in Paris ten days ago where some chilling facts emerged. Throughout the EU about 117 people are being killed in road accidents every day of the year - the equivalent of the Paris Concorde crash every 24-hours - and this, together with 1.6 million serious road injuries, is costing in excess of 100 billion Euros annually.
What on earth, you may wonder, has this got to do with F1 racing? The answer is, quite a lot if one thinks in terms of the PR possibilities. No matter how much the re-introduction of electronic technology sticks in the craw of traditionalists - me included - the plain facts of the matter are that we live in an era when the major car makers have increasingly become grand prix racing's paymasters
Overwhelmingly, the car makers want to see an exchange of technology between F1 and their everyday road products. That will make F1 a high-tech engineering crucible for the advanced electronic age. Whether it makes the racing any better for the man in the grandstand is extremely debatable, although while the terrestrial TV viewing figures continue to sky-rocket, who am I to argue?