Columns - Big Al
Hakkinen versus Schumacher: the showdown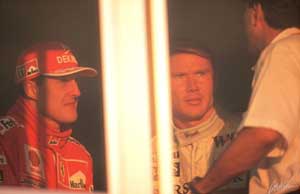 BY ALAN HENRY
Michael Schumacher and Mika Hakkinen will again underline their status as the dominant formula one rivals of the current era when they go head-to-head in Sunday's Japanese Grand Prix at Suzuka, both knowing that this could be the day when the Ferrari driver regains the drivers' world championship for the famous Italian team for the first time since Jody Scheckter 21 years ago.
Eight point ahead in the title battle with just 20 points to race for, Schumacher knows that he is the likely champion. Yet professional regard for his team-mate, allied to a deep knowledge of just how unpredictable the F1 business can be, prevents him from even allowing himself to think about the championship until it is mathematically beyond doubt.
The mathematics are certainly stacked in Schumacher's favor. By finishing second to Hakkinen in both races, he will be equal on points and take the title on a tie-decider with seven wins to his rival's six. Yet Schumacher is determined to win from the front and settle the issue this weekend.
Whatever the outcome of the race, it is sure to underline the fact that Schumacher and Hakkinen have cemented their position as the two most formidable competitors currently in the grand prix business. Like James Hunt and Niki Lauda, Ayrton Senna and Alain Prost, they have earned their entry in the motor racing history books as the best of their particular generation.
Yet in some ways it is an unlikely alliance, lacking either the extrovert charisma of Hunt/Lauda or the crackling high tension static which surrounded the often venomous battles between Senna and Prost.
Ten years ago at Suzuka, Senna used his McLaren as a battering ram to push Prost's Ferrari off the road at the first corner, the Brazilian driver thus settling the world championship in his favor.
Although both Hakkinen and Schumacher are unusually highly motivated performers, it is hard to imagine their battle for the championship will scale such deliberately malicious heights.
The two men seem more disciplined and controlled, less emotional - and possibly less colorful - than some of their distinguished forbears.
Even so, Hakkinen would do well to remember that Damon Hill believes Schumacher deliberately shunted him out of the 1994 Australian grand prix championship clincher. He also knows that Michael tried to nudge Jacques Villeneuve off the circuit in the 1997 European Grand Prix at Jerez, the race in which the Finn scored his first formula one victory. On the latter occasion his tactics backfired and he was the one left beached in the gravel as Villeneuve surged on to take the championship.
Yet there clearly seems to be affinity, a curious competitive bond, between Hakkinen and Schumacher. After this year's Belgian grand prix where Schumacher squeezed his rival onto the edge of the circuit at 190mph as they battled for the lead, the Ferrari driver listened intently with the demeanor of one who understood the point as Hakkinen gently chided him immediately after the race. It was almost as if Hakkinen was the only man whose criticism meant anything to him.
A fortnight later at Monza, Schumacher broke down sobbing at the post-race media conference after beating Hakkinen into second place. Far from revelling in his rival's anguish, Hakkinen put a consoling arm round his rivals and looked as though he, too, might burst into tears.
"Give me a break," he replied as he waved away questions, leaving a slightly uneasy Ralf Schumacher, who had finished third, to handle the question on his owns while the two top guns quickly composed themselves.
For his part, Schumacher recently bestowed rare praise on Hakkinen, saying, in effect, that he was the best rival any driver could hope for. 'Mika is very professional in his attitude, whereas other people are looking for trouble,' he said.
'That is a good thing. We concentrate on what we get paid for - driving, not fighting in the media.'
Although their careers have run side-by-side for the past decade, it is only over the past three seasons that Hakkinen has emerged as a contender for Schumacher's crown. They both made their grand prix debuts in 1991, Schumacher for Jordan and Hakkinen for Lotus.
Schumacher quickly switched to Benetton in 1992 and won his first grand prix in Belgium. It would take more than another five years for Hakkinen to score his maiden formula one triumph at the wheel of a McLaren-Mercedes, by which time Schumacher had put two world championship titles under his belt in 1994 and 95.
Mutual respect is a rare commodity between such highly competitive sportsmen, calling as it does for a sense of honest self-awareness. It may have hurt Damon Hill's dignity, but Schumacher never really felt the British driver was a rival of equal calibre. This is not the case with Hakkinen.
In 1994, he reasoned, Hill had fundamentally a better car than his Benetton and was advantaged by the fact that Schumacher had to serve a two-race suspension in the middle of the season.
Hakkinen's first win may have been a long time coming, but the Finn has definitely grown in stature with his success. When he won his first world championship he was regarded as a strong number two to Schumacher in the overall pecking order. But through the 1999 season his talented developed to the point where there was nothing to choose between the two of them.
Hakkinen's even temperament may be the key to their sense of mutual respect. Whereas David Coulthard is prepared to cross swords with Schumacher - most notably after banging wheels with the Ferrari driver during this year's French grand prix - Hakkinen generally avoids any contentious exchanges.
Interestingly, when Hakkinen's form seemed to be wobbling slightly in the middle of the season, and Coulthard was coming on strongly, Schumacher wasn't distracted by this apparent reversal of fortune between the two McLaren drivers.
"My biggest rival for the world championship is still Hakkinen," he said confidently, and events were to prove him right.
It is the same this weekend. Schumacher knows he has to stretch himself all the way to the final checkered flag if he is to prevent Hakkinen from becoming the first driver since Juan Fangio to win three championships in a row.
"I'm here at Suzuka to win," said Schumacher. "We have a real chance of success because the car is really well prepared."
Hakkinen plays his cards closer to his chest. "Nobody can discount Michael Schumacher," he says with a distant grin. That they also discount Mika Hakkinen at their peril he invites you to take for granted.