Columns - Big Al
Coulthard's last throw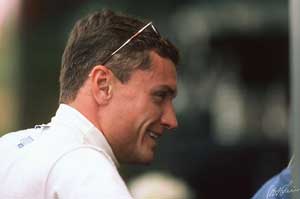 BY ALAN HENRY
You've got top admire David Coulthard's resilience. After what amounts to another bruising season with the McLaren-Mercedes team, the popular Scot is as far away as ever from his burning ambition to win the World Championship. Yet, while he will certainly be driving for McLaren in 2001, I suspect that unless he wins the title from the front of the field, one is bound to conclude that he will not enjoy another year of Ron Dennis's patronage beyond next year's Japanese Grand Prix.
"I have been third in the Championship a few times now, so I guess it doesn't mean quite the same as having been a double, or a triple, World Champion. It doesn't mean anything to me. It's about winning. I have never finished second or first, so I guess it would seem like a step forward to be finishing second in the Championship.
"In the first half of the year, yes, I scored a lot of points, and then in the second half of the year I made some mistakes. The team, when it came to making some of our strategies - and I am part of that - maybe didn't make good calls on the track. There were places like Spa and Hockenheim where we just didn't get it right and sometimes we need to make those (good) calls in order to score the maximum points.
"It was a combination of what I was doing and what we were doing as a team which meant that we didn't score as much in the second half of the year. I was still there, or thereabouts, in terms of pace and qualifying, it's just the race results which haven't been as strong."
The problem with Coulthard's 2000 season, in retrospect, has been the way in which people were understandably misled into concluding that the Scot had raised his game at around the time of the Monaco and French Grands Prix.
In reality, Hakkinen's form was slipping slightly and normal service was resumed when the Finn led from start to finish at the A1-Ring. Thereafter Mika was firmly back in the driving seat and that the balance of power between them remained effectively unchanged.
When the time comes to renew Coulthard's contract for the 2002 season, I doubt McLaren will be willing to cut a deal as early as they did this summer, if at all. Coulthard must lead from the front in next year's World Championship, otherwise his sixth season at McLaren will surely be his last.