Columns - Big Al
A worthy reward for the right man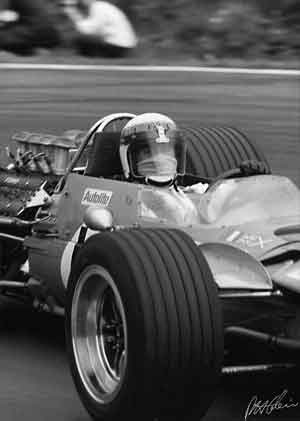 BY ALAN HENRY
Jackie Stewart deserves his knighthood because there are a lot of people alive today who wouldn't be if the Scot hadn't chosen to make a professional career out of motor racing. That is neither a joke nor an exaggeration.
Crucially, Stewart did more than simply campaign for improved circuit safety at a time when the safety facilities at, say, Spa-Francorchamps were virtually unchanged since Dick Seaman crashed fatally at the Belgian track in June 1939. He changed attitudes which had been entrenched for years.
He could also speak from experience. On the opening lap of the '66 Belgian GP his BRM aquaplaned off the Masta Straight, bounced off a house and landed in the outside basement of a woodcutter's cottage. He was trapped in the car, his ribs and shoulder broken, with the petrol pumps merrily decanting five-star into his crutch. Understandably, it held his attention.
Grand Prix safety should be taken for granted, as FIA president Max Mosley has rightly said on many occasions.
When Juan Pablo Montoya, for example, was rattling his Williams-BMW along the barrier in Montreal ten days ago, I don't suppose for a second that he gave a thought to wee Jackie. It may well be that the Colombian thinks of him purely as the little chap with the squeaky voice and the tartan trews whose son used to run an F3 team.
But it should never be forgotten that the process which led to the present culture of safety was triggered almost entirely by Stewart in the late 1960s at a time when people who talked about safety were branded as wimps.
OK, the torch has subsequently been carried aloft by both the constructors and the FIA, motor racing's governing body, but none of their efforts have been set against the positively hostile backdrop against which Jackie had to battle in his F1 heyday.
As a novice Grand Prix reporter, I caught the final season of Jackie's career. In 1973, let's remember, Roger Williamson was burnt to death at Zandvoort and Jackie's own team-mate Francois Cevert died practising his Tyrrell at Watkins Glen. A pretty average year, really. Just two deaths. Oh yes, and popular Scot Gerry Birrell - a friend of Jackie's - killed at Rouen practising for an F2 event.
Compared to today's high-tech F1 environment, we might as well be talking about the trench warfare at the Somme. To me, that's why Jackie Stewart deserves his knighthood. I'll admit it and put my hand up as one of his fans, but not just because he's engaging company over the dinner table.
It's because he thought the unthinkable - that motor racing need not be needlessly dangerous. And fought against what seemed a prevailing tide. Simple as that.