Austrian GP 2018
JUNE 30, 2018
Qualifying Report - The Silver Red Ring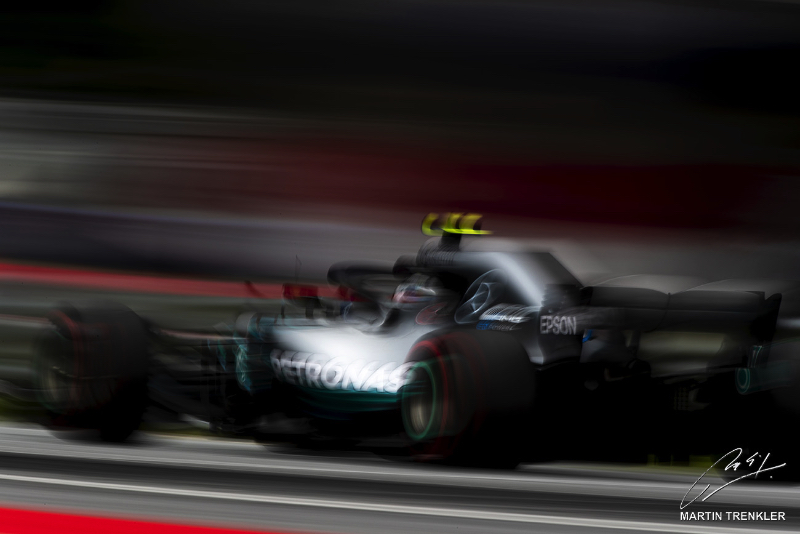 © Martin Trenkler
By Dan Knutson in Spielberg
The Silver Arrows Mercedes of Lewis Hamilton was quick on Friday at the Red Bull Ring. Then the red Prancing Horse Ferrari of Sebastian Vettel topped Saturday's practice session. In qualifying on Saturday afternoon, when it really counted, Valtteri Bottas claimed the pole in his Silver Arrows. Now the question was what color would rule the ring in the race on Sunday?
The line-up for the weekend was: Mercedes - Hamilton and Bottas; Ferrari - Vettel and Kimi Raikkonen; Red Bull TAG Heuer - Daniel Ricciardo and Max Verstappen; Force India Mercedes - Sergio Perez and Esteban Ocon; Williams Mercedes -Lance Stroll and Sergey Sirotkin; Renault - Nico Hulkenberg and Carlos Sainz; Toro Rosso Honda - Brendon Hartley and Pierre Gasly; Haas Ferrari - Romain Grosjean and Kevin Magnussen; McLaren Renault - Fernando Alonso and Stoffel Vandoorne; Sauber Ferrari - Marcus Ericsson and Charles Leclerc.
QUALIFYING 1
Vettel had gone quickest in FP3, turning a 1:04.070, and pipping Hamilton by just 0.029 of a second. Both were on the ultra soft compound slicks. Pirelli also had the soft and super soft on hand.
Leclerc, meanwhile, needed a new gearbox, so that meant a five-place grid penalty.
The track may only have 10 turns, but it is a tricky challenge.
"It's quite technical this place to get every corner right," Perez said. "Missing half a tenth is enough to be out of position so you have to be quite perfect on Saturday around here."
The ambient temperature at the start of qualifying was 75 degrees Fahrenheit (24 degrees Centigrade) and the track temperature was 93 degrees Fahrenheit (34 degrees Centigrade).
Hamilton laid down a 1:04.294 early in Q1, and Vettel took second with a 1:04.347.
Bottas came back to go in front with a 1:04.175. Hamilton came back with a 1:04.080. So after the first runs he was ahead of Bottas, Raikkonen, Verstappen, Vettel, Grosjean, Ricciardo and Magnussen.
Hartley was 15th and on the bubble, with Vandoorne 16th and Sirotkin 14th.
The top five stayed in as the session wound down, but there was plenty of action behind them. And when it was over, the five drivers who were eliminated at the end of Q1 were: Vandoorne, Perez, Sirotkin, Hartley and Ericsson.
The fastest 15 drivers who moved on to Q2 were: Hamilton, Bottas, Raikkonen, Grosjean, Verstappen, Vettel, Magnussen, Ricciardo, Hulkenberg, Sainz, Alonso, Leclerc, Gasly, Ocon and Stroll.
QUALIFYING 2
The Mercedes drivers headed out on the super soft tires - a gamble that could pay off because those would then be the tires they would start the race on.
Hamilton, on those super soft Pirellis, got down to a 1:03.577. Bottas, also on the supers, was close behind. Vettel and Raikkonen used the ultra softs to go third and fourth.
The Red Bull boys were also on the super softs.
Down in tenth was Gasly, with Hulkenberg 11th and Ricciardo a precarious ninth.
Once more the drivers went out.
Vettel posted a 1:03.544 to beat Hamilton. Next came Bottas, Raikkonen, Verstappen, Grosjean, Magnussen, Ricciardo, Sainz and Hulkenberg.
The five drivers who were eliminated at the end of Q2 were: Ocon, Gasly, Leclerc, Alonso and Stroll.
QUALIFYING 3
The ten drivers were, of course, all using the ultras in Q3 which lasted 12 minutes.
Bottas rammed in a 1:03.264, which Hamilton could not beat with his lap of 1:03.797.
Raikkonen grabbed third ahead of Verstappen, Ricciardo, Vettel, Sainz and Hulkenberg.
On his next run, Raikkonen moved up to second, and Grosjean grabbed fourth behind Hamilton.
Verstappen, fifth, and Ricciardo, now sixth, went out for another attempt. They did not improve on fifth and sixth.
So it came down to the final couple of minutes and all 10 drivers on track.
Bottas did a 1:03.130 to claim his fifth F1 pole. Hamilton's 1:03.149 put him second. Vettel dislodged Raikkonen. Verstappen wound up fifth ahead of Grosjean, Ricciardo, Magnussen, Sainz and Hulkenberg.