MAY 31, 2002
Takuma Sato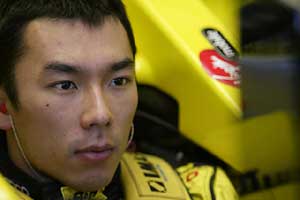 THERE has been a lot of negative comment in recent days about the recent performances of Jordan driver Takuma Sato. He was involved in a big crash in Austria, he then crashed an old Lotus in the Monaco historic GP and then in the Monaco GP itself he had a rather silly accident from which he was lucky to emerge unscathed.
But let us put things into perspective. Sato is quick. He has made mistakes this year - as all young drivers do - but in no way has he disgraced himself. There is an argument - put forward by some of his colleagues - that Takuma needs to calm down a bit when he is in the car and not be pushing as hard as he is at every single moment. Perhaps they have a point. There is always a danger in bringing a young driver straight into F1 from Formula 3. In the old days drivers climbed the racing ladder and learned their trade as they moved up towards Formula 1. The really exceptional stars managed to jump from Formula 3 to Formula 1. Nowadays the trend has been to take youngsters from anywhere if they show signs of being quick. This can work if the driver is ready for it but it can also be very damaging. This is something that has been seen time and time again in the history of the sport. How many times have we seen young drivers damage their careers by trying to do too much too soon? Perhaps the best example is that of Roberto Moreno, who was in Formula Ford when Lotus boss Colin Chapman picked him to be Lotus's test driver. When an opportunity came up for Roberto to race he failed to qualify. Not because he was not quick enough (as he later proved) but because he did not have the experience necessary to handle the situation.
This is not to say that Sato is out of his depth in Formula 1. He has made a good impression overall but there is no question that right now he needs to have the right kind of support and guidance to calm him down and make his realize that he needs only to get a result or two and it will all be forgotten.
The management of young drivers is not an easy thing and in recent years we have seen the rise of people who are managers simply to make money and do not understand (and do not care) that management is about preparing the driver to meet the challenges that he faces. Once in a generation there is someone who can cope with it all without any help but more often than not drivers need the right kind of support.
Great management is about doing what is best for a driver in the long term. Olivier Panis took the advice of his management and became a McLaren test driver after a difficult period at Prost Grand Prix. He even turned down a Williams-BMW drive. But it was the right thing for him to do. Panis learned in that year that he was as quick as David Coulthard and Mika Hakkinen and his confidence and reputation both grew. When he was signed by British American Racing he soon showed that he was almost always a match for Jacques Villeneuve.
Takuma Sato is a talent and with the right guidance and the right support he can build himself a long-term career in Formula 1.
All the rest is hype...